Now that the Yankees have been swept from the playoffs, we can expect the hot stove in the Big Apple to be 5,000 degrees, with the ignition log being one Mr. Alex Rodriguez. Every since A-Rod was scratched from the lineup in Games 3 and 4 of the American League Championship Series by the Detroit Tigers, speculation about his future in New York has run rampant. The recurring theme in such speculation is that Rodriguez is due $114 million over the next five years and that the Yankees are going to pay the vast majority, if not all, of that contract whether Rodriguez is in pinstripes or not in the future.
The Twittersphere has been full of speculation and opining on A-Rod. There were several worthy tweets that make the point I would like to illustrate, but today's retweet, by James Culp III (
@JCC3rd
) captures the idea rather succinctly. If the Yankees are going to pay the man, they had either better have an equal or superior replacement, or they may as well keep him.
"A declining, cheap ARod is still better than the Phillies' current options at Third. Just saying... #IfNotWright"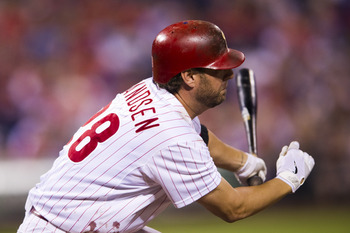 If you can get Alex Rodriguez for peanuts, would you really turn him down to stick with Kevin Frandsen (lifetime .267 avg., 9 career HRs, 5 years in MLB).
Image from
www.bleacherreport.com