2
The New York Yankees trail the Detroit Tigers, 3-0, in the American League Championship Series. Third baseman and Hall of Fame resume holder Alex Rodriguez (.272, 18 HR, 57 RBI) has struggled in the series, badly, going 1 for 7 in the series and hitless against right handed pitchers. Rodriguez was scratched from the lineup for Games 3 and 4. Game for was postponed until today due to weather concerns, but A-Rod is expected to be on the bench when the game starts.
The sports media have poured generous amount of blame on Rodriguez. Following the Game 4 scratch, rumors have been rampant that the Yankees are seeking to deal Rodriguez, and the reported $114 million owed to him on the remaining 5 years of his contract, even if the Yankees would have to absorb up to 80% of the money owed. Those are the breaks of the game!
Just imagine, if Rodriguez just got his act together, the Bronx Bombers would be just a game away from returning to their first World Series in three years. Let's have a look at Rodriguez's performance in this series and contrast it to everyone else in pinstripes who is stepping his game up only to be let down by A-Rod.
Alex Rodriguez, 3B
(1-7, 3 Ks, .143 BA, .143 OBP, .143 SLG)
These ladies are thrilled to be leaving the stadium holding A-Rod's balls.

1
Curtis Granderson, CF
(0-10, 6 Ks, .000 BA, .167 OBP, .000 SLG)
– A-Rod is holding him back.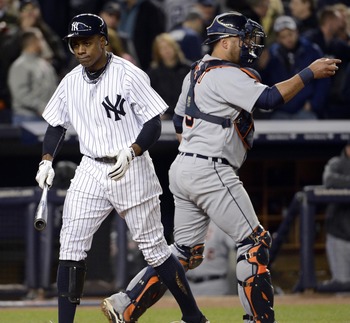 If you don't succeed the first 10 times, try again.

3
Robinson Cano, 2B
(1-14, 2Ks, .071 BA, .067 OBP, .071 SLG)
– If Rodriguez just instilled a little more fear in opposing pitchers, they wouldn't be so aggressive with Cano.
Cano is too valuable defensively to remove from the lineup. It didn't help him much in Game 2. Besides, defense isn't the problem.

4
Mark Teixeira, 1B
(3-12, .250 BA, .333 SLG, 0 RBI)
– See, this isn't a putrid stat line at all (it isn't really "good", either). If only A-Rod had driven him home, this series would be headed back to New York.
Teixeira is putting the team on his back with three singles!

5
Nick Swisher, RF
(2-8, 3 Ks, .250 BA, .375 SLG, 0 RBI)
– Now THERE is leadership with the stick. Too bad A-Rod is killing the strong momentum!
I can hear NBC Dateline's Chris Hansen telling Swisher to, "Have a seat," after all of the strikeouts.

6

The Yankees should keep in mind that when you point one finger at someone else, there are three pointing back at you!

7

Don't forget to vote in the fan polls!
1) Image from
www.sportsgrindent.com
2) Image from
www.elitedaily.com
3) Image from
www.bleacherreport.com
4) Image from
www.washingtonpost.com
5) Image from
www.beesball.com
6) Image from
www.usatoday.com
7) Image from www.thefiringline.com