Last week's advantage/disadvantage record: 6-2
Must See Sports 2012 record (excluding series): 78-42
Advantage/disadvantage record in series, 2012: 12-7-1
Friday, October 19
MLB
National League Championship Series
San Francisco Giants

at

St. Louis Cardinals

– Game 5
Barry Zito (15-8, 4.15 ERA) – Giants vs Lance Lynn (18-7, 3.78 ERA, 180 Ks)
The Giants aren't hitting. That's no different than the regular season. Their pitching is just "okay". That is a problem. Zito got torched and was removed in the third inning in his only other postseason start. The Cardinals have been unable to lose, even when they help their opponents out. I don't see this series going back to the Bay.
The Tigers can book their flight to St. Louis for the World Series.
Advantages – Game: Cardinals, Series: Cardinals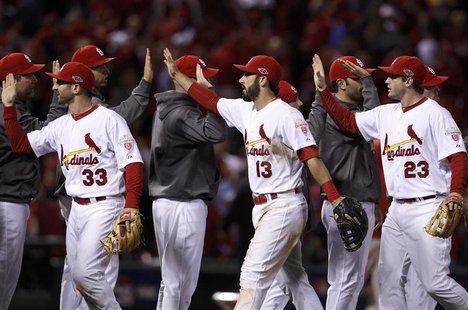 Get used to this image, Giants fans.

3
Saturday, October 20
(7)

South Carolina Gamecocks

at (2)

Florida Gators
South Carolina, a talented team that can force turnovers and score quickly, looked like a completely different team at Death Valley against the LSU Tigers. The Cocks have played three road games. In them, they had to sweat it out at Vanderbilt, they made the hapless Kentucky offense look marginally competent (which it is not), and LSU led by two scores in the final minutes of the game.
Now they travel to The Swamp, where the Gators have bent but have never broken this season. I do not expect Florida running back Mike Gillislee (615 yds., 7 TD, 5.1 avg.) to run all over S.C., but I don't expect him to be shut down either. Ultimately, I just do not expect South Carolina quarterback Connor Shaw (910 yds., 9 TD, 4 INT, 69% comp.) to be effective enough in Gainesville to pull out the road win.
Advantage: Florida
There's no place like home for the Old Ball Coach.

1
Sunday, October 21
New York Jets

at

New England Patriots
Rex Ryan versus Bill Belichick…Mark Sanchez versus Tom Brady…Bart "CAN'T WAIT" Scott versus the media. This is one of the best regular season rivalries in NFL. Adrenaline runs high. Tempers often flare. This is FOOTBALL!
Unfortunately for John Q. Fan, while the Pats and Jets have identical 3-3 records and the rivalry is intense, the matchup heavily favors the Patriots. The Patriots have been nipped three times by teams with winning records. The Jets have beaten three teams with losing records and been creamed at the line of scrimmage by higher caliber opponents.
The Patriots' secondary is, and will continue to be, a massive liability, but Mark Sanchez's passing in tandem with a lack of any significant receiving threats could remedy that problem for New England on Sunday. The Jets, on the other hand, have had trouble stopping the run. This does not bode well for a team that has to rely on its defense facing a Patriots running back in (former LSU player) Stevan Ridley (524 yds., 4 TD, 4.4 avg.) having a breakout year.
Advantage: Patriots
Bart: Are your ready for the Patriots?
Wednesday, October 24
MLB
2012 World Series – Game 1
Detroit Tigers

at either the

St. Louis Cardinals

or

San Francisco Giants
I would be stunned if the Giants rallied to win the NLCS, but the game ain't over until the fat lady sings. A World Series preview is coming next week. Stay tuned for details!
Thursday, October 25
MLB
2012 World Series – Game 2
Don't forget to vote in the fan polls!
1) Bart Scott video from
www.youtube.com
2) Image from www.shreveporttimes.com
3) Image from www.wkzo.com