Thursday, September 29
NCAA Football
(16)

South Florida Bulls

at

Pittsburgh Panthers
South Florida, with its high octane offense, makes its Big East debut at rival Pitt. The Bulls are 4-0 following a season opening upset of Notre Dame and a trio of tune up games against Ball State, Florida A&M, and UTEP.
The nation will feast its eyes on junior quarterback B.J. Daniels (1,071 yards, 8 TD, 1 INT, 66% completion), who appears to be having a breakout season. Daniels leads an offense averaging over 500 yards per game and scoring 46 points per game. Junior running back Darrell Scott (348 yards, 5 TD, 6.6 avg.) has helped balance the offense, averaging just under 7 yards per carry.
Pitt has gotten off to a pedestrian 2-2 start as it also prepares for its first conference game tonight. The Panthers suffered back-to-back losses to Iowa, after blowing a huge fourth quarter lead, and Notre Dame, in which their passing game never got off of the ground. Pitt is desperate for a win, as its BCS prospects will dwindle drastically should the Panthers fall behind in the conference standings.
The bright spot in the Panthers' offense has been junior running back Ray Graham (508 yards, 6 TD, 5.1 avg.). The speedy running back is also a receiving threat out of the backfield, with 21 catches on the year. They will likely be relying heavily on Graham as the Pitt passing attack will be challenged by a stingy South Florida defense that gives up only 17 points per game.
Advantage: South Florida
Friday, September 30
MLB
American League Divisional Series
Detroit Tigers
at
New York Yankees
- Game 1
Justin Verlander (24-5, 2.40 ERA) - Tigers vs C.C. Sabathia (19-8, 3.00 ERA) - Yankees

Talk about an epic matchup! The future 2011 Cy Young winner matches wits with the 2007 Cy Young winner in what should prove to be epic. As a rule, I never pick against C.C. This is the first time I have been tempted, but since the Yankees are at home, and hot, I like the Yankees in the first game.

Advantages - Game: Yankees, Series: Yankees

Tampa Bay Rays
at
Texas Rangers
- Game 1
James Shields (16-12, 2.82 ERA) - Rays vs C.J. Wilson (16-7, 2.94 ERA) - Rangers

After the Oscar worthy drama of Wednesday night's seven run comeback, to win in 12 innings, I wonder how much the Rays will have in them by Friday evening, especially after a day of travel. I think Big Game James Shields will be up to the task, but so will C.J. Wilson. Add those dynamics to the Rangers batting order and the fact that the game will be played in Arlington and I think the defending American League champions take the first game of the ALDS.

Advantages - Game: Rangers, Series: Rays

I hope they didn't leave all of their emotion in Tampa.

1
Saturday, October 1
MLB
National League Divisional Series
St. Louis Cardinals
at
Philadelphia Phillies
- Game 1
Jaime Garcia (13-7, 3.56 ERA) - Cardinals vs Roy Halladay (19-6, 2.35 ERA) - Phillies
Lost in all of the hoopla of the collapse of the Boston Red Sox and the comeback of the Tampa Bay Rays was the September St. Louis miracle, coming from 8.5 games back of the Atlanta Braves to reach the National League Wild Card. Part of the NL Wild Card story being the quieter of the two is the profile of the teams involved.
The Red Sox had World Series expectations while the Braves were a clear second fiddle to the Phillies. Still, none of those factors take away from the Cinderella story of the Cardinals. Midnight is on Saturday.
The Cardinals lack of pitching is what got them into the big September hole and the 180 degree turnaround of the staff, as a whole, is the reason the Cards dug out of the hole. Jaime Garcia was one of the few models of consistency on the Cardinals staff all season, but he's no "Doc" Halladay.
Advantages - Game: Phillies, Series: Phillies
Arizona Diamondbacks
at
Milwaukee Brewers
- Game 1
Ian Kennedy (21-4, 2.88 ERA) vs Yovani Gallardo (17-8, 3.52 ERA)
The Snakes may be the most relatively anonymous division winner in recent memory. Ian Kennedy may be the most anonymous 20-game winner in recent memory. D-Backs manager Kirk Gibson plans on introducing us to them.
Milwaukee may be getting its final looks at first base of slugger Prince Fielder (.299, 38 HR, 120 RBI), who is bound to garner a nine figure contract in free agency that the Brewers likely cannot afford, especially after recently signing 5-tool left fielder Ryan Braun (.332, 33 HR, 111 RBI) to a lucrative long term deal. I have been keeping a close eye on Fielder all season and I am convinced that the big guy is determined to leave Milwaukee (and enter contract negotiations) with a bang.
I think that pitching is often the difference in playoff series between two similarly talented teams. If pitching is similar, the next tiebreaker is the batting lineup, then home field. The Brew Crew has two out of three, a tie on the first and a clear advantage on the latter two.
Advantages - Game: Brewers, Series: Brewers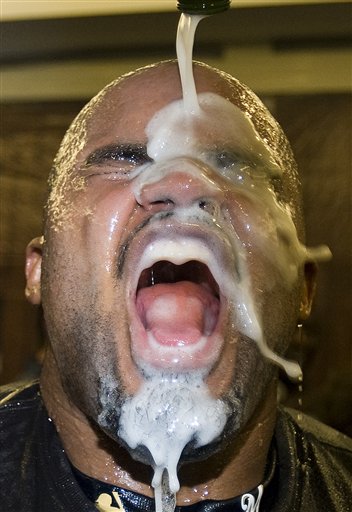 This was the champagne bath Prince Fielder took the last time the Brewers reached the playoffs, in 2008. While I would rather see Danica Patrick, I am sure Brewers fans would rather see an encore of this image at the end of October.

2

NCAA Football
(3)

Alabama Crimson Tide

at (12)

Florida Gators
This is the SEC's game of the week. Bama gets another tough test as it going into The Swamp to face the Gators. After being leapfrogged by LSU from the #3 spot to the #1 ranking in the Associated Press poll, I am quite confident that the Tide has something to prove.
Florida is unbeaten and already 2-0 in SEC play. After comfortable wins against Tennessee and Kentucky, the Gators will get a true measurement of their progress on Saturday. Junior running back Trent Richardson (448 yards, 8 TD, 6.6 avg.) has provided power to an Alabama offense that has not needed to labor much to win in 2011. Bama defense has suffocated opponents this year, allowing only 8 points per game, second-lowest allowed in the Football Bowl Subdivision.
Florida has also been stingy, allowing 9 points per game. Senior running backs Chris Rainey (411 yards, 2 TD, 6.5 avg.) and seemingly unstoppable Jeff Demps (320 yards, 4 TD, 9.4 avg.) have been a puzzle for opponents, thus far. However, the Tide defense is a few cuts above those of Kentucky and Tennessee.
Advantage: Alabama
Sunday, October 2
NFL
New York Jets

(2-1) at

Baltimore Ravens

(2-1)
Two front runners in the AFC…two aggressive, hard hitting defenses…Ray Lewis…Rex Ryan…Sunday Night Football…yeah, this should be good!
The Jets are coming off of a loss to the Oakland Raiders while the Ravens brought their record above .500 with a 30 point thrashing of the St. Louis Rams. Both teams need a win to avoid falling behind in their respective division races.
The Ravens have had a very potent running attack this season, led by workhorse Ray Rice (231 yards, 5 TD, 5.6 avg.). Veteran Ricky Williams has also provided invaluable relief of Rice, averaging 5 yards per carry. The Jets are next-to-last against the run, allowing 137 yards per game. This is shocking, considering the reputation and history of the Rex Ryan coached Jets defense.
Jets running back LaDanian Tomlinson has been an X factor for the Jets' offense. Tomlinson is the Jets' second-leading receiver and has 258 yards from scrimmage this season. Tomlinson's contributions have enabled Jets quarterback Mark Sanchez to play very efficiently this season, having completed 70% of his passes this season. The question for the Jets is whether or not they can put up points against a smothering Ravens defense in Baltimore.
Advantage: Ravens
Ray Lewis plows Dustin Keller when these teams met last season. I'm sure Jets linebacker Bart Scott "CAN'T WAIT!"

3
MLB
American League Divisional Series
New York Yankees

at

Detroit Tigers

- Game 3
Pitchers TBD

I expect the Tigers to either be tied or in a hole by the time this game is played. I do not think this will be a close out game. I think that, regardless of the pitchers, the Tigers will take the game against the Yankees third starting pitcher in the playoff rotation in Detroit.

Advantage - Game: Tigers, Series: Yankees
Texas Rangers at Tampa Bay Rays - Game 3
Pitchers TBD

I don't know and don't care who is pitching. the Rays take their first game at home in The Trop.

Advantages: Game: Rays, Series: Rays


NFL
Indianapolis Colts

(0-3) at

Tampa Bay Buccaneers

(2-1)
The Peyton Manning-less Colts played a tough game against the defending AFC Champion Pittsburgh Steelers on national television last week, losing on a last second field goal. On Monday night, the Colts will get a do over against a playoff contender in the Tampa Bay Buccaneers.
The Bucs squeezed out a tough win against the division rival Atlanta Falcons. Tampa has had trouble on both sides of the ball, at times, this season, but still found a way to win their last 2 games. After going through some hard knocks and close games, the winless Colts may appear to be what the doctor ordered. Still, the Colts are proud, hungry, and may have gained some confidence after last week.
Advantage: Buccaneers
I wonder if Peyton would do it if he could "go Ronnie Lott" and lop off a body part to get back on the field right away.

4
Don't forget to vote in the fan polls!
To advertise with The Daily Hat Trick, or to submit a guest column, please contact the editor at
eric@thedailyhattrick.info
.
The Daily Hat Trick is sponsored by
Sports N Stuff
. For great deals on jerseys, shirts, cologne, and other guy stuff, visit
http://www.sportsnstuff.biz/
.
1) Image from latimes.com
2) Image from red-hot-mama.com
3) Image from coasttocoastravens.com
4) Image from examiner.com