Former Houston Astros and current San Francisco Giants outfielder Hunter Pence has a way with the ladies. Pence has been romantically linked to former
Playboy Playmate Shannon James
, a subject of the Hat Trick Chick Pic earlier this year.
Of course, the Cardinals and Giants square off in San Francisco in less than two hours for Game 7 of the 2012 National League Championship Series. The winner of tonight's game will host the American League champion Detroit Tigers on Wednesday in Game 1 of the 2012 World Series.
One person who may not be rooting for the Giants tonight is Lindsay Slott. Ms. Slott is Hunter Pence's ex-girlfriend. There are several unconfirmed reports on various blogs on the Internet that suggest that Pence broke up with her after he was traded from the Astros to the Philadelphia Phillies in 2011. So, if Slott rooted for the Cards (a division rival of the Astros) out of spite, would she be selling out her hometown? Hmm....
Regardless, she is the subject of today's Chick Pic.

Ms. Slott is a former cheerleader with the Houston Texans of the NFL. 1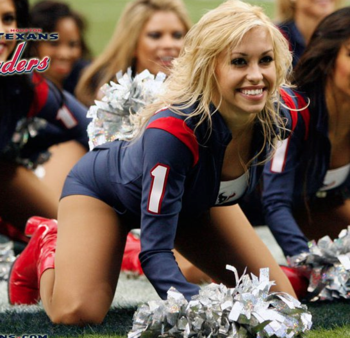 I wonder if Pence realizes just how good he has it, when you can dump chicks like this.

2
Don't hate the player; hate the game!

3

He's just livin' the dream.

4

1) Image from
www.velocitypac.com
2) Image from
www.bleacherreport.com
3, 4) Images from
www.thebiglead.com