The Atlanta Braves lost to the St. Louis Cardinals, 6-3, in the single elimination National League Wild Card Game this past Friday. It ended the Atlanta Braves 2012 season. With that loss, it appears that the Hall of Fame career of Chipper Jones also came to a close.
PHENOM
Larry Wayne "Chipper" Jones made his major league debut as a September call-up in the 1993 season at age 21, with his official rookie year coming in the Braves' World Series winning year of 1995 (he did not play in the strike shortened 1994 season due to injury). The switch hitting phenom made an immediate splash, hitting 23 homeruns and demonstrated stand out capabilities in every facet of the game. He finished second in National League Rookie of the Year voting to Japanese pitching sensation Hideo Nomo of the Los Angeles Dodgers.
Switch hitters are often specialists who have especially high levels of coordination and can leverage the opportunity to reduce the effectiveness of an opposing pitcher's break on his pitch. There are some very good batters who are switch hitters. There have been a number of switch hitters with good power. Jones was elite hitting for contact and power on both sides of the plate. This made Jones a lethal weapon for the Braves during Jones' career.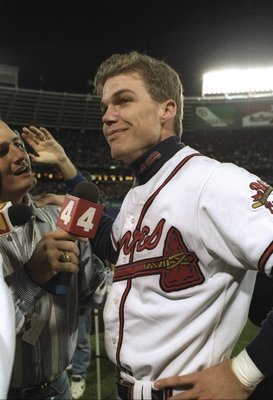 Jones during the Braves' World Series winning season of 1995.

1
HALL OF FAME RESUME
The rest, as the expression goes, is history. Jones would play in the major leagues for a total of 18 service years over 19 MLB seasons. An eight time All-Star, Jones leaves the game with a career batting average of .303, and astonishing on base percentage of .401, a slugging percentage of .529 (for a career on base plus slugging of .930) and 468 career homeruns.
Jones was the MVP of the National League during the Braves pennant winning season of 1999, batting .319 with 45 homeruns and 110 RBIs. Jones won the National League batting title in 2008, at the age of 36, with a .364 batting average. Jones also led the National League in 2008 in on base percentage at .470. Often plagued with nagging injuries, Jones still played in the majority of his team's games in all 18 of his full MLB seasons, never player less than 95 games in a season.
Jones was a contributor on 13 Braves playoff teams, including 11 consecutive division titles between 1995 and 2005. Jones played in the National League Championship Series six times, with the Braves winning the National League Pennant three times (1995, 1996, 1999) and winning the aforementioned World Series in 1995. In both individual and leadership in team accomplishments, Jones played like a Hall of Famer from the beginning of his career to the very end.
Jones tipped his hat as an All Star for, probably, the final time this July at the 2012 All-Star Game.

2
PLACE IN HISTORY
There are myriad manners in which Chipper Jones' career and legacy can be framed. He is so accomplished in so many areas of the game of baseball that no one label can capture the essence of his career. Many in sports media, and I agree with this, have tended to frame Jones' career as being among the greatest switch hitters of all time. Among switch hitters, only Hall of Famers Mickey Mantle (536) and Eddie Murray (504) have hit more career home runs. Thirty-six year old Lance Berkman of the St. Louis Cardinals is fourth among switch hitters for career homeruns (and will be the active leader when Jones officially retires), more than 100 dingers behind Jones with 360 career homers.
Among players with a minimum of 3,000 lifetime plate appearances, Jones is second all time in career batting average at .3034 (Hall of Famer Frankie Frisch – retired 1937 – is the all time switch hitting batting leader with a .316 lifetime average). Among switch hitters, Victor Martinez of the Detroit Tigers is virtually tied with Jones in lifetime batting average at .3033 and will be the active leader at the start of the 2013 season. The next closest lifetime batting switch hitters are all-time lifetime hits leader Pete Rose at .3029, followed by Hall of Famer Roberto Alomar at .300, then Mantle at .298.
Hall of Famer Mickey Mantle is the MLB switch hitting lifetime homerun leader.

3
ONCE IN A GENERATION PLAYER?
Factoring in his elite career accomplishments and the breadth of his skills, Chipper Jones was in a class by himself during his nearly two decades long career. While a few players can be identified as being more accomplished with a particular tool of the game (contact, power, speed, glove, and arm strength) perhaps only Mickey Mantle and a very select few others who escape my memory or played long before my time can claim to be more accomplished across the broad range of Major League Baseball skill contributions. His status as a switch hitter made Jones a particularly rare find.
Chipper Jones singles in the final at bat of his career in the 2012 National League Wild Card Game in a loss to the St. Louis Cardinals.

4
Don't forget to vote in the fan polls!