Now that the NBA season is over, it's time to make the transition to America's Pastime at the ooooold ballpark!
We brought you an MLB edition of Lies, Damned Lies… last year
. What better way to transition back to the most statistics-oriented sport than an expose on some counterintuitive statistics?
Cy Young's single season career high for strikeouts was only 210 Ks, in 1905.
"Only 210 Ks? That many per year would get a guy a $100,000,000 contract today!" That's true, except that in the Dead Ball Era of baseball, before bullpen specialization, arbitration, players unions, and modern sports medicine, ace pitchers like Young would average over 40 starts per year and over 300 innings pitched. Considering that 200 strikeouts is a gold standard in a 25-30 starts per year/200 I.P. era, 210 strikeouts by a pitcher so great that the award for the best pitchers in baseball bares his name, over a century later, seems a little low.
Young pitched 320 innings in that 1905 season for the Boston Americans (who would soon become the Red Sox). His career strikeouts per nine innings pitched in his career was a mere 3.4. It was a different game back then!
Not quite the same as the Red Sox's trademark "B".

1
Hall of Fame pitcher Bob Gibson never cracked the top three in MLB ERA leaders after leading the majors in ERA and winning the Cy Young in 1968.
Gibson had a staggeringly low ERA of 1.12 en route to leading the St. Louis Cardinals to the National League championship in 1968. Gibson was so dominant that year that, in response, MLB lowered the pitching mound to help level the field, pun intended. Gibson would never sniff a sub 2.00 ERA ever again.
Gibson would continue to dominate. He would pitch in three more All-Star Games and win another Cy Young (in 1970). It is still surprising, however, that a player who practically could not be scored upon would never really challenge for the MLB ERA lead in the remaining seven years of his career.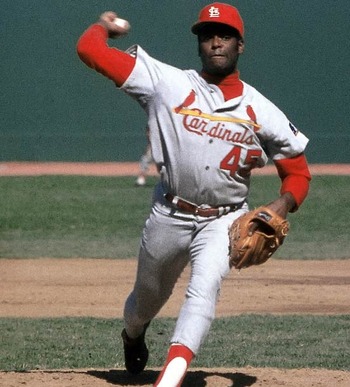 Gibson struck out 17 batters in Game 1 of the 1968 World Series against the Detroit Tigers.

2
National League batting leader David Wright (.358, 8 HR, 41 RBI) has never been among the top five batting leaders in the league.
Few people are surprised that Wright is leading the league in hitting through late June. He is one of if not the best hitting third baseman of his time. Yet, in spite of a career batting average of .303, Wright has never been in a serious discussion for batting champion in September. The three time All-Star has never finished higher than 7th (batting .325 in 2007) and has finished the year at 10th or lower in all but one other season (9th – 2005). He is off to a good start for a different finish this year.
Wright and the Mets are simply amazing this year.

3
Alex Rodriguez has not had more than two multi-homerun games in four of the past five seasons.
Again, for a mere mortal, this would not be alarming. But A-Rod has Hall of Fame worthy numbers. He has hit over 600 home runs in his career. In fact, Rodriguez has never played in 100 or more games in a season and failed to reach the 30 home run plateau.
Multi home run games are a means by which every great slugger has bolstered his stats. In years past, it was mentioned often that Rodriguez served up more than one dinger per game. Those occasions are fewer and further between.

Frankly, I thought the fellas would rather look at A-Rod's current girlfriend, WWE's lovely Torrie Wilson, than Rodriguez hitting a ball with a stick.

4

Don't forget to vote in the fan polls!
To advertise with The Daily Hat Trick, or to submit a guest column, please contact the editor at
eric@thedailyhattrick.info
.
The Daily Hat Trick is sponsored by
Sports N Stuff
. For great deals on jerseys, shirts, cologne, and other guy stuff, visit
http://www.sportsnstuff.biz/
.
1) Image from
www.findagrave.com
2) Image from
www.bleacherreport.com
3) Image from
http://sports.yahoo.com
4) Image from
www.wallpaperfever.com