The Daily Hat Trick reviews all angles of sports. It isn't always about the athletes. Sometimes it is about the numbers. Recently, The Hat Trick shared some NFL statistics that the average fan may not have known. With the Fall Classic in Major League Baseball just a few weeks away, it is time to look at some "did you know" facts in baseball.
Todd Helton is in the top 5 all-time among active players in batting average, on base percentage, and on base plus slugging percentage.
The Colorado Rockies first baseman has been to several All-Star games and has been a steady mainstay in the Rockies lineup. Still, The Toddfather doesn't have any shoe deals and is one of major League Baseball's more quiet stars on one of its more quiet teams in one of MLB's quieter markets. I have a lot of doubt as to whether the casual baseball fan thinks of Helton as a slam-dunk Hall-of-Fame player.
I wonder how many casual fans associate Todd Helton with "National League Champion", let alone "Hall of Famer".

1
Among Major League Baseball's all time leading run scorers, the only active players in the top 50 are current or former New York Yankees.
First of all, with the superstars of the Steroid Era in the twilights of their careers, I find it surprising that there are no active players in the top 10. Alex Rodriguez is #15 all-time; Derek Jeter is #21 and former Yankee Johnny Damon is in the #37 position. Considering how steroids, supposedly, bastardized and tainted the records of Major League Baseball, one would expect the statistic most central to winning a game, runs scored, to be littered with accused juicers from the 1990s and early 2000s.
The MLB career leader in runs scored, who never wore Yankee pinstripes, is 40 year old Jim Thome of the Cleveland Indians, at the #52 all-time position. In fact, only non-Yankee name associated with the scandals of the Steroid Era in the top 100 on the all time runs scored list is Manny Ramirez. Ramirez, of course, never failed a steroids test or had his name mentioned during the Congressional hearings of the mid 2000s, but in 2009, he was suspended for 50 games for testing positive for a banned female fertility drug associated with masking the use of steroids.

Message: If you do enough of this, sooner or later you'll be wearing this uniform.

2

Omar Vizquel is among the top 50 all time career leaders in hits.
The 44 year old reserve infielder for the Chicago White Sox has had a longer career than one may think. Vizquel is #45 all-time for career hits with 2,841 (one hit behind Ivan "Pudge" Rodriguez of the Washington Nationals as of September 22). While only an average to above average contact hitter (.272 career average), those hits pile up over the years.
To put Vizquel's longevity into perspective, he debuted in the major leagues in 1989, the same year as Ken Griffey Jr. While the last player active to play with Junior, who retired last year, may not be identified for another 20 years, Vizquel has been the last active player to play with the future Hall-of-Famer, as a rookie, for several years.
Longevity, good health, and consistency have their rewards. Does anyone remember THESE Mariners lids from back in the day?

3
Alex Rodriguez is the only player among the 100 all time career leaders in games played age 35 or younger.
The only active players ahead of Alex Rodriguez are Vizquel, Pudge Rodriguez (age 39), Thome, and Jeter (age 37). In conducting research for this piece, I came to the conclusion that A-Rod is the most likely player associated with the scandal of the Steroid Era to be inducted into the Hall of Fame. The Baseball Writers Association of America (BBWAA) is often punitive, sometimes to the point of being irrational. However, greatness is greatness.
A-Rod's numbers, across the board – hits, home runs, RBIs, etc., are approaching those of some of the greatest record setting players of all-time. His alleged steroid use took place prior to the 2003 season, very early in his career. One could toss out his pre-2003 numbers and his statistical output would still be Hall-of-Fame worthy.
In addition, A-Rod said his steroid usage was isolated. Based on his physical appearance before and during that time and his performance over his career, that claim may be credible. Last, 'roids won't help anyone very much trying to hit a baseball well, but they will increase the velocity and stamina of the pitchers he faced during his career.
Finally, Rodriguez may have five or more good years left in his career. He has not shown many signs of slowing down at the plate, though he has missed more games due to injury this year than in the past. With an on base plus slugging percentage still over .800, Rodriguez may completely shatter all of the all time MLB records, except for Pete Rose's 4,256 career hits.
It is so hard for me to compliment...this guy!

4
Ryan Howard's 58 home runs in 2006 is the highest single season total among active players.
Fifty-eight dingers seem like a pittance in a decade that produced a new single season record of 73 (Barry Bonds, 2001). It is also a reminder of how the legacy of the Steroid Era will probably taint baseball for decades to come. Excluding Barry Bonds, Mark McGwire, and Sammy Sosa, players whose accomplishments have been clouded by the steroid scandal, Roger Maris' 61 homeruns in 1961 is still the highest single season total in the history of Major League Baseball.
Because the full fallout of the steroid scandal had yet to develop in 2006, Howard's single season bash fest looked like just another MVP-caliber year. When excluding the potentially tainted players, however, Howard's 2006 output was the highest since Maris' record breaking season of '61 and tied with Jimmie Foxx (1932) and "Hammerin'" Hank Greenburg (1938) for the fourth best single season total of all-time (Babe Ruth hit 60 and 59 in 1927 and 1921, respectively).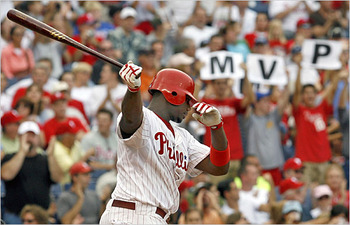 Last name, "Ever"...middle name, "Greatest" (first name, "Fourth")....

5
Don't forget to vote in the fan polls!
To advertise with The Daily Hat Trick, or to submit a guest column, please contact the editor at
eric@thedailyhattrick.info
.
The Daily Hat Trick is sponsored by
Sports N Stuff
. For great deals on jerseys, shirts, cologne, and other guy stuff, visit
http://www.sportsnstuff.biz/
.
1) Image from roxpile.com
2) Image from nj.com
3) Image from seattlesportsinsider.com
4) Image from sportschump.net
5) Image from bleacherreport.com