Round 1 of the NBA Playoffs is in the books as of Sunday afternoon. The first round gave the surviving teams and several worthy opponents a chance to showcase their potential. I found it poetic that the final game of the first round, Game 7 of the host Memphis Grizzlies and victorious Los Angeles Clippers, was an often chippy series. What better way to transition to a second round of the NBA Playoffs that may more closely resemble Fight Club than a low-to-moderate contact sport.
EASTERN CONFERENCE
Philadelphia 76ers

vs

Boston Celtics
The odds of the team with the fifth best regular season record in the Eastern Conference hosting Game 1 of the Conference Semifinals had to be pretty slim when the season started. It has never happened before in the Eastern Conference Playoffs and only happened once in the history of the NBA (1994).
Nonetheless, that is what we have on our hands. The fourth seeded Celtics, winners of the Atlantic Division with a lesser record than the fifth seeded Atlanta Hawks, have home court advantage over the eighth seeded Philadelphia 76ers. While this current crop of Sixers and Celtics, division rivalry aside, don't have much history of heated relations, these franchises do. The Sixers and Celtics, according to mcubed.net, have met 18 times in the playoffs, more than any other two franchises in NBA history (Lakers vs Celtics – 14 times).
In the not-so-distant past, this rivalry was defined by big superstar, Hall of Fame names on both teams. Paul Pierce (19 PPG, 5 RPG) launching 27 footers for every wicked crossover by Allen Iverson…Charles Barkley dissing Larry Bird…Dr. J and Moses Malone working Kevin McHale and Robert Parish in the paint…Wilt the Stilt versus Bill Russell. Once upon a time, this was epic.
Today the Celtics still have Paul Pierce, teaming up with Kevin "The Big Ticket" Garnett (16 PPG, 8 RPG) and Ray Allen, A.K.A. Jesus Shuttlesworth (14 PPG, 45% 3pt). Unfortunately for viewers of this series, the Celtics offer all of the Hall of Fame star power. Elton Brand (11 PPG, 7 RPG, 2 BlkPG), Lou Williams (15 PPG), and Andre Iguodala (12 PPG, 6 RPG, 6 APG, 2 StlPG) don't quite have the ring of Julius Erving, Malone, and Barkley.
Enough history, which is interesting…on to the present, which really isn't. Congratulations to 76ers coach Doug Collins for advancing the Sixers in the playoff for the first time in a long time, against long odds in spite of the Derrick Rose injury. The Celtics already took Game 1 on Saturday. The dream stops here.
Advantage: Celtics
Expectation: 5 games

Barkley dissed Bird but Bird returns the favor, blocking a Barkley attempted dunk.

1

Indiana Pacers

vs

Miami Heat
I expected the Pacers to surprise some people and they played the Heat tight in Miami yesterday. Heat forward Chris Bosh (18 PPG, 8 RPG) is expected to miss the rest of the series, meaning forward LeBron James (27 PPG, 8 RPG, 6 APG, 2 StlPG) and guard Dwyane Wade (22 PPG, 5 APG, 5 RPG, 2 StlPG) must bring their "A" game every night. Otherwise, this series could become uncomfortably close for the Heat.
Roy Hibbert (13 PPG, 9 RPG, 2 BlkPG) and Danny Granger (18 PPG, 5 RPG) will keep Indiana in these games. Ultimately, in spite of the Bosh injury, I don't think the Pacers win this series with Wade or LeBron being exposed to some Kryptonite. Indiana will not go down without a fight. I think the Heat may have some trouble on the Pacers home floor, but I expect them in the Eastern Conference Finals.
Advantage: Heat
Expectation: 6 games
There's more where this came from.

2
WESTERN CONFERENCE
Los Angeles Clippers

vs

San Antonio Spurs
This series is the least predictable. It could be the most physical. Expect it to be entertaining.
The championship lineage of the Spurs goes back to last century, with head coach Gregg Popovich and future Hall of Fame forward Tim Duncan (15 PPG, 9 RPG, 2 BlkPG). The key for the Spurs, however, will be guard Tony Parker (18 PPG, 8 APG). This team will go as far as Parker, not Duncan, takes them. Popovich has done an outstanding job in coaching his aging team to the top seed in the Western Conference for the second consecutive year. However, this team demonstrated, last season, that it could be beaten by being out run and out physicaled.
That weakness feeds directly into the Clippers' strengths. Nobody does everything – runs, passes, shoots, harasses opposing ball handlers, like Clippers guard Chris Paul (20 PPG, 9 APG, 3 StlPG) and no specimen in this series is as physically daunting as Clippers forward Blake Griffin (21 PPG, 11 RPG). Throw in bench players like the menacing defensive enforcers Kenyon Martin (5 PPG, 4 RPG, 1 BlkPG) and DeAndre Jordan (7 PPG, 8 RPG, 2 BlkPG) and the Spurs experience and egos may be tested by the brash youth of the Clippers.
That said, the Clippers have to tighten up their transition defense and half court offense to have a prayer against the Spurs. That may not be enough.
Advantage: Spurs
Expectation: 5 games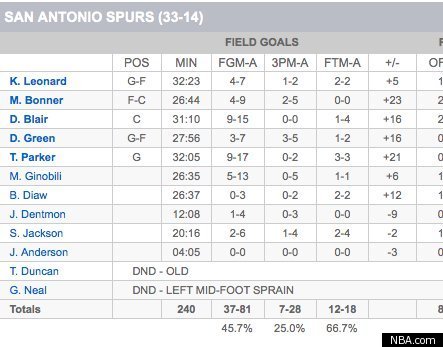 Who says PR people don't have a sense of humor? Is he old(er)? Yes. Will the Clippers take him for granted? NO!

3
Los Angeles Lakers

vs

Oklahoma City Thunder
How could I have a "fighting" theme while discussing the playoffs and not save the best fight for last. Lakers forward Metta World Peace (8 PPG, 3 RPG) already drew first blood before the series started when he elbowed and concussed Thunder forward James Harden (17 PPG, 4 RPG) late in the regular season. These teams have an intense playoff history, dating back to the first round of the 2010 playoffs in which the then-eighth seeded Thunder took the then-top seeded Lakers to seven games.
The game has escalated with the recent un-pleasantries between these two teams. Unfortunately for the Lake Show, this is not going to come down to one star player in the Lakers' Kobe Bryant (28 PPG, 5 APG, 5 RPG) against Kevin Durant (28 PPG, 8 RPG, 4 APG). The Black Mamba and the Durantula will be great. Russell Westbrook (24 PPG, 6 APG, 5 RPG) and other role players for the Thunder will be in full force. Pau Gasol (17 PPG, 10 RPG) and Andrew Bynum (19 PPG, 12 RPG, 2 BlkPG)…wheeeewwwww!!!…I won't hold my breath based on what I saw in the first round series against the Denver Nuggets.
Advantage: Lakers
Expectation: 5 games
Metta World Peace or Metta World War? Geez!

4
Don't forget to vote in the fan polls!
1) Image from
http://sportsillustrated.cnn.com
2) Image from
www.bostonglobe.com
3) Image from
www.huffingtonpost.com
4) Image from
www.faniq.com