Last week's advantage/disadvantage record: 5-2
Must See Sports 2012 record: 25-13
Thursday, February 16
NBA
Los Angeles Clippers

at

Portland Trailblazers
One might ask, "The Blazers are in 8th place in the West. What's so 'must see' about them." While in eighth place, the Trailblazers are only 3.5 games out of first place. Every playoff spot in the Western Conference is up for grabs.
Losing four of your last five games, as Portland has, is not the best way to close that 3.5 game gap. Their only win in that five game stretch was over the Hornets, with the worst record in the West. Last night the Blazers lost to the lowly Washington Wizards. They need a confidence boost.
The Clippers are the kind of opponent that can give that boost, should the Blazers win. The Clippers have won eight out of their last 11 games and are in sole possession of first place in the Pacific division. They are no longer the "other" L.A. team!
The Blazers star player is LaMarcus Aldridge (27 PPG, 8 RPG), but their success would not be possible this season without the defensive contributions of the ageless Marcus Camby (4 PPG, 10 RPG, 2 BlkPG). The 37 year old Camby, however, has averaged less than his season average for rebounds in his last five games and only blocked two shots in that five game stretch. Camby has played 20 minutes or less in three of those five games. The Blazers up tempo offense cannot work against the league's better teams without Camby's full defensive contribution.
The Clippers recently learned that guard Chauncey Billups (15 PPG, 4 APG) would be lost for the season with an Achilles injury. Chris Paul (19 PPG, 9 APG) and company have kept on trucking, thus far. However, the loss of key players like Billups is often felt against the better teams in the league. Still, the Clippers have momentum and the Blazers appear to have stumbled. Paul and Blake Griffin (21 PPG, 11 RPG) are not the ideal tandem against which one should try to get his groove back.
Advantage: Clippers
CP3...OH!

1
NCAA Men's Basketball
#17

Wisconsin Badgers

at #8

Michigan State Spartans
The Big Ten appears to be this year's Big East, with a number of tough, ranked teams beating each other up in the race for the conference lead. Last month, I commented that Michigan State appeared to be stumbling with the coming of conference play. They've regained their footing, having won five of their last six games.
Draymond Green (15 PPG, 11 RPG) of the Spartans has recorded a double-double in three of his last four games and was one rebound against Ohio State from recording four in his last five. When Green and Keith Appling (12 PPG, 4 APG) are "on", the Spartans are extremely tough to stop.
The Badgers have been a roller coaster ride. After losing three straight Big Ten games as conference play began to get underway, Wisconsin has recovered to win seven of their last eight games, all in conference play, with their only loss coming to #3 Ohio State. The Badgers go as senior guard Jordan Taylor goes (15 PPG, 4 APG, 4 RPG, 40% FG).
Last month, the Hat Trick noted Taylor struggles shooting from the field. There has not been much improvement as Taylor had shot 40% or less from the field in four consecutive games before their last game, against Minnesota. Taylor can draw fouls in the lane, but jacks up too many three point shots, putting up an average of 5 shots per game from downtown, but only shooing 33%. That is not terrible, except that when he shoots more from behind the arc when the Badgers lose, going 13 for 37 from downtown in the Badgers' six losses this season.
Advantage: Michigan State
Maybe Taylor needs a little more time in the gym? I'm sure he's there a lot as it is.

2
Friday, February 17
NBA
Dallas Mavericks

at

Philadelphia 76ers
The 76ers have continued to win, showing that their hot start was not fluke. They are winning with great teamwork and smothering defense, allowing 87 points per game, second in the NBA. Forward Andre Iguodala (12 PPG, 7 RPG, 5 APG) has been the straw that stirs the drink for the Sixers, but, make no mistake, Coach Doug Collins gets every player who takes the floor to pull their weight. Need more proof? Sixth man Lou Williams (16 PPG, 4 APG), who plays 26 minutes per game, is the team's leading scorer.
The Mavericks have recovered from a rocky 1-4 start to the season and have recovered to pull within two games of the San Antonio Spurs in the Southwest Division, in fourth place in the West. Dallas has won four straight, including wins over the playoff contending Clippers, Blazers, and Denver Nuggets. Dirk Nowitski (19 PPG, 6 RPG) also started the season off slowly, but appears to have recovered, scoring 20 or more points in six consecutive games.
Dallas is hot and Dallas is the defending champ. I am not quite ready to buy into Philadelphia's Rocky Balboa act…yet.
Advantage: Mavericks
Sweet Lou!

3
Saturday, February 18
NCAA Men's Basketball
#6

Ohio State Buckeyes

at #19

Michigan Wolverines
Big game in the Big Ten. Michigan seeks a chance to redeem itself after being blasted in Columbus earlier this year. The problem for the Wolverines is that probably lottery pick Jared Sullinger (18 PPG, 9 RPG) is healthy and senior Will Buford (15 PPG, 5 RPG) is playing at his peak. Tim Hardaway, Jr. (14 PPG, 4 RPG) of Michigan will need to show up against the Buckeyes, unlike his abysmal, four point, 10% shooting performance against UM's last ranked opponent, Michigan State.
A win on Saturday will put Michigan in to a three way tie with OSU and Michigan State for the Big Ten lead. The Wolverines are at home. however, unless Hardaway can perform light years better than he did last in his last big game and freshman point guard Trey Burke (14 PPG, 5 APG) can perform above his season average AND Ohio State's key players, Sullinger and Buford are off of their games, Michigan is in for an uphill battle. Those are too many "ifs".
Advantage: Ohio State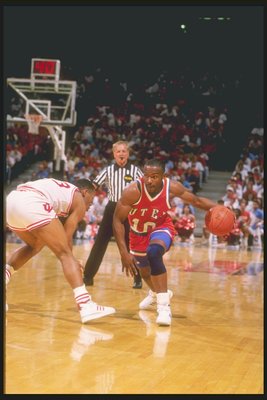 Hardaway's dad, Tim Hardaway, Sr., made it look a lot easier at UTEP than it will be for his son on Saturday at Ohio State.

4

#16

St. Mary's Gaels

at #14

Murray State Racers

Mid-major schools...major matchup. The Murray State Racers of the Ohio Valley Conference were the last of the unbeaten teams in college basketball this season, falling to the Tennessee State Tigers in a head scratcher last Thursday in spite of a 31 point, 77% shooting performance from their top player, junior guard Isaiah Canaan (19 PPG, 4 APG. Canaan's six turnovers did not help, however, nor did his senior backcourt partner, Donte Poole (14 PPG, 39% 3PtFG) and his 3 for 10, four turnover, reboundless, performance in which he fouled out.

Murray State ascended from mid-major conference anonymity to the top of the college ranks with scoring, scoring, and more scoring - using quickness and sharpshooting. The racers average 75 points per game. They don't just impose their will on inferior opponents. They shoot 47% from the field. You can either put the ball in the hold or you can't. Against South Florida, Murray state scored 70 and against Memphis, they scored 76. Teams that can score against anyone can be a problem in the big dance.

St. Mary's has quietly risen into the top 25. The Gaels also put up a lot of points, scoring 76 points per game and shooting 48% from the field. St. Mary's gets their points more from ball movement than transition play and fast breaks, which is more similar to Murray State's scoring recipe. They have their own 1-2 punch in junior point guard Matthew Dellavedova (16 PPG, 6 APG) and fifth year senior power forward Rob Jones (15 PPG, 11 RPG).

Dellavedova will be the key. In all four St. Mary's losses, he turned the ball over three or more times, greater than his per game average.The Gaels have played a tougher schedule, are more physical, and have more quality wins. I like them in this clash of the mid-major titans.

Advantage: St. Mary's

"MURRAY STATE...RAC-ERRS!"...Some things you just have to see to believe.

5

Sunday, February 19 NBA

Dallas Mavericks

at

New York Knicks

Future Hall of Famer Jason Kidd (4 PPG, 6 APG, 5 RPG, 28 MPG) of the Mavericks gets a taste of Linsanity in this nationally televised Sunday afternoon game. The Knicks have won seven consecutive games, coinciding with the rise of sensational second year point guard Jeremy Lin (13 PPG, 5 APG). Lin, averaging 24 points and 10 assists in the last five games, including a game winning shot in the final second against Toronto, has taken the basketball world by storm and put the Knicks back at the contender's table in the Eastern Conference.

Lin and the Knicks are red hot. So are the defending champion Mavericks, winners of five straight. I expect the Knicks to win on friday against New Orleans, but I expect the Linsanity to stop on Sunday, especially without any certainty of Knicks forward Carmelo Anthony's (22 PPG, 6 RPG) return to the lineup.

Advantage: Mavericks
A brother like me...is going "Lin-sane"!

6
Denver Nuggets

at

Oklahoma City Thunder
This is an example of a good team, in Denver, facing an excellent team in Oklahoma City, with the best record in the Western Conference (22-7). Nuggets point guard Ty Lawson (15 PPG, 6 APG) has been key in the Nuggets remaining in contention since the Carmelo Anthony trade last year. Lawson is coming off of an abysmal 3 point, 2 assist, 2 turnover night against the Mavericks last night. The Nuggets, losers of seven out of their last nine, are slumping and will need a lot more from Lawson against OKC.
The Thunder have also hit a speed bump, losing three of their last seven, although two of those losses were against the playoff-contending Houston Rockets and San Antonio Spurs. Kevin Durant (27 PPG, 8 RPG) has played himself back into the race for the scoring title, catching up to Kobe Bryant and LeBron James.Considering Denver's Option Defense (as in, "it is optional whether or not we play defense), which coughs up 100 points per game.
Advantage: Oklahoma City
Don't forget to vote in the fan polls!
To advertise with The Daily Hat Trick, or to submit a guest column, please contact the editor at
eric@thedailyhattrick.info
.
The Daily Hat Trick is sponsored by
Sports N Stuff
. For great deals on jerseys, shirts, cologne, and other guy stuff, visit
http://www.sportsnstuff.biz/
.
1) Image from http://sportsillustrated.cnn.com
2) Image from http://host.madison.com
3) Image from www.onemanfastbreak.net
4) Image from www.bleacherreport.com
5) Video from www.youtube.com
6) Image from www.gumship.com