Bowl season is in full swing. The NFL regular season is winding down to yet another exciting conclusion. The holidays are upon us. This is a wonderful time of the year!
Saturday, December 24
NFL
New York Giants

(7-7) at

New York Jets

(8-6)
I always found it interesting that either team, the few times they meet, is considered a "home" team. They both play their home games at MetLife Stadium. I used to find it even more interesting when this game was played at old Giants Stadium and the Jets were the home team.
Locality semantics aside, this game is absolutely critical for both teams. Both team will be behind the playoff 8-ball with a loss. Both teams were blown off of the field by surging teams with inferior records last week. The Giants could be eliminated from playoff contention, depending on the result of the Cowboys-Eagles matchup, with a loss. The Jets could lose control of their playoff destiny with a loss.
Both teams have been extremely inconsistent this season. Both teams are Jekyll and Hyde in their week-to-week performances. Neither team has a dynamic rushing attack. However, I think that quarterback play will be the differentiator in this matchup of shaky teams. That advantage, unquestionably, belongs to Eli Manning. That said, I wouldn't bet a penny on this game. Both teams are too inconsistent and, therefore, unpredictable.
Advantage: Giants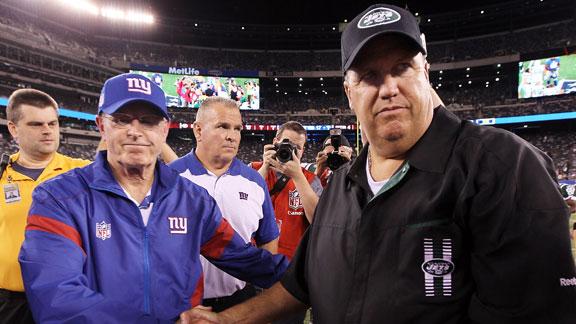 Giants coach Tom Coughlin: "Talk is cheap."
Jets coach Rex Ryan: "Money buys whiskey."
Anyone doubt that Rex has plenty of both?

1
San Diego Chargers

(7-7) at

Detroit Lions

(9-5)
The Lions control their playoff destiny. The Chargers need some help, minimally, from the Kansas City Chiefs in Week 17, possibly more, to win the AFC West. Matt Stafford led the Lions back from yet another daunting deficit against the Oakland Raiders. The Chargers absolutely destroyed a team many think is the best in the AFC in the Baltimore Ravens in prime time last Sunday.
This is an extremely difficult matchup to predict because both teams are peaking strong at the best time of the regular season to do so. Still, Detroit is at home. The crowd can be expected to be a formidable 12th man with so much at stake.
Advantage: Lions
Philadelphia Eagles

(6-8) at

Dallas Cowboys

(8-6)
Philadelphia is in a must win situation. Given their rancid, injury-riddled, and tumultuous start to their season, I think they'll take it. The Eagles finally appear to be playing like the so-called "Dream Team", as declared by quarterback Vince Young. If the stars line up with the moon and Eagles do slip into the playoffs...OH MY GOODNESS! Everything changes in the playoffs because everyone is 0-0.

The Cowboys, like every other team in the NFC East, are a Jekyll and Hyde act. One week they look like the most talented franchise over the past half decade, which I think they are. The next week they look like the bumbling, lackadaisical underachievers that cost former coach Wade Phillips his job last season.

In spite of playing at the "palace in Dallas", I think a healthy Mike Vick takes out a season's worth of frustration on the Pokes.

Advantage: Eagles
Sunday, December 25
Happy birthday, Jesus! Merry Christmas!

NBA
Boston Celtics at New York Knicks
FINALLY! The NBA IS BACK!!! With the rushed training camp and preseason, I expect the first quarter of the season to be dominated by the team who dominated last year and have the cores of their rosters in tact. Boston may be aging, but they're still

really

good and, listening to Ray Allen in interviews, the fire is still burning.

The Knicks, on the other hand, lost one of their "Big 3" of Chauncey Billups, Amare Stoudamire, and Carmelo Anthony. Billups is now with the Los Angeles Clippers. In addition, they were good, but far from great last year, having surrendered all of their key role players to the Denver Nuggets to acquire Anthony in a trade.

Advantage: Celtics

Miami Heat

at

Dallas Mavericks

This rematch of the NBA Finals will garner interest, as the Mavericks will hoist their championship banners. I am not so sure that the result on Christmas Day will be the same as the final game in last June.

The Heat are loaded with more new talent, such as the acquisition of forward Shane Battier in the offseason. The Mavericks, while they did acquire forward Vince Carter for a king's ransom and forward Lamar Odom from the Lakers for…well…FREE…suffered some key losses. Finals hero J.J. Barea is gone. Sharp-shooting Peja Sojakovic retired. Tyson Chandler is gone.

Regular season openers are tough to predict, but on paper, I'll go with the Heat Index.

Advantage: Heat
I hope Dirk isn't planning for a coronation, because LeBron is planning for payback.

2

Chicago Bulls

at

Los Angeles Lakers

Last year's M.V.P., Derrick Rose, will square off against former M.V.P. Kobe Bryant. Or will he? Bryant tore ligaments in his wrist during a fall in a preseason game and is day-to-day.

Whether Bryant plays or not, the Lakers will not have 100% of Kobe. They let go of Lamar Odom. They have a new coach. Meanwhile, the Bulls appear to be reloaded after last year's defeat in the Eastern Conference Finals.

Advantage: Bulls
OUCH!

3

NFL

Chicago Bears

at

Green Bay Packers

The Bears, losers of four straight, are on playoffs ICU. Anyone who questioned injured starting QB Jay Cutler's value to the Bears should be holding his tongue right now. Replacement Caleb Haine has guided the Bears flight down in a ball of flames. Haine has now been benched for 32 year old journeyman and career-long never-achiever Josh McCown, whose only achievement was bumping the Minnesota Vikings from the 2003 playoffs on a prayer of a pass. Matt Forte, the Bears star running back, is expected to miss yet another game with a knee injury.

So why even discuss this game. The San Francisco 49ers still have a chance to wrestle the top NFC Playoffs seed from the Packers. The Packers' weaknesses on defense and in their running game, which have been evident all season, were finally exploited for a win by the previously 5-8 Kansas City Chiefs, who are also without their opening day staring quarterback and running back. The Bears are desperate, but I doubt that will be enough. Still, the Packers have to prepare for this opponent better than they did for the last one or the NFC Playoff race could get unexpectedly interesting, heading into the final week of the season.

Advantage: Packers Monday, December 26

Atlanta Falcons

(9-5) at

New Orleans Saints

(11-3)

This is, no doubt, the game of the week. As corny and cliché as it sounds, you can throw the records out of the window when these two teams play. Though, this year, the records have been pretty good for this matchup.

Falcons coach Mike Smith is seeking to redeem himself. His team rallied from multiple scores back in the 4th quarter of the earlier meeting of these two teams to force overtime. In the overtime, however, Smith elected to run instead of punt on 4th and inches from inside his own 30 yard line and turned the ball over on downs, effectively handing the game to the Saints, who kicked a short field goal moments later.

The Saints are fighting for a division title and a chance at a first round playoff bye. Less important, but very interesting, Drew Brees may break Dan Marino's 27 year old record for passing yards in a single season. This game is made for television.

Yours truly will be in that number. The Saints have not lost at home all year. Coincidence? I think not!

Advantage: Saints
There's more where that came from!

4

Wednesday, December 28

NCAA Basketball #16

Georgetown Hoyas

at #4

Louisville Cardinals

College basketball has given us all of our hoops fixes so far this season. So Must See Sports would be incomplete without at least one NCAA game. This one is a doozie.

Louisville will likely duke it out with Syracuse and Pittsburgh to be the beast in the Big East this year. However, I think that Georgetown is in the tier, within the Big East, immediately behind that top tier. A win over Louisville could propel the Hoyas into contention for the Big East title and/or the top 10.

Louisville has a well balanced, well disciplined team, led by the backcourt tandem of Kyle Kuric (13 PPG, 5 RPG) and Peyton Siva (10 PPG, 7 APG). Their convincing win over Memphis this past Saturday convinces me that the Cardinals are going to be a tough out for any team.

"Tough out" does not mean "invincible", though. Georgetown has returning players who have stepped their game up, so far, this season. Senior guard Greg Clark (16 PPG, 4 RPG) in on track for a breakout season. Meanwhile, junior forward Hollis Thompson (15 PPG, 6 RPG) is picking up his solid defensive game from where he left off last year, while nearly doubling his 2011 scoring output.

The Hoyas have had some tests this year, however. Their toughest tests came in a 57-55 win over then #12 Alabama , an overtime win over then #8 Memphis, and a four point loss to then #14 Kansas. Undefeated Louisville, on the other hand, has only faced one ranked opponent, an overtime squeaker over #19 Vanderbilt (Memphis was not ranked last Saturday).

This is Louisville's first conference game. Every unbeaten can be beaten at some point. I like Georgetown for the upset as the Redbirds are ripe for it.

Advantage: Georgetown Don't forget to vote in the fan polls! To advertise with The Daily Hat Trick, or to submit a guest column, please contact the editor at eric@thedailyhattrick.info.

The Daily Hat Trick is sponsored by

Sports N Stuff

. For great deals on jerseys, shirts, cologne, and other guy stuff, visit

http://www.sportsnstuff.biz/

.