Last Friday, The Daily Hat Trick
ran a piece about active NFL quarterbacks and their chances of being inducted into the Pro Football Hall of Fame
. This week, we will focus on the other part of the offensive backfield, the running back position. The NFL has a number of players who will be nominated for football immortality at the Pro Football Hall of Fame in Canton, Ohio. Only a select few will make it.
SLAM DUNK
LaDainian Tomlinson, New York Jets
– There couldn't be an easier "yes" vote for the Hall of Fame. Besides the fact that he is the NFL's all time active leading rusher, sixth leading rusher in the history of the game
*
, third all time leader in NFL history for touchdowns, second all time for rushing touchdowns, and has over 18,000 career yards from scrimmage…besides all of that…he's still a productive player. Coming off of the
bench
, Tomlinson is the Jets third leading receiver (as of Monday morning), with 14 receptions, and the team's second leading rusher. In his two seasons with the Jets, past the age of 30, he averages 4.1 yards per carry.

Looks like L.T. made it off of Revis Island before coming to the Jets.

1

ON TRACK
Steven Jackson, St. Louis Rams
– With over 8,000 career rushing yards and 10,000 career yards from scrimmage, the chances of Jackson NOT being inducted reduce exponentially with each carry. Jackson is in the 8th year of his career, but, having entered the NFL at age 21, is still two years from the dreaded age of 30 for an NFL running back. It is only a matter of time before Jackson begins to show signs of slowing down. By that time, his induction should be all but certain, barring major injury. Even if Jackson retired today, he would have an outside shot at Canton in the near future.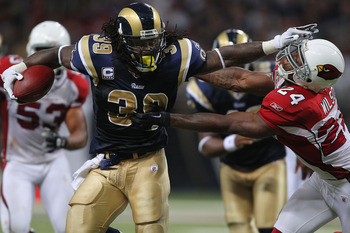 Jackson's bust should include a stiff-arm.

2
Frank Gore, San Francisco 49ers
– Gore should be in the NFL's top 50 all time leading rushers by the end of month, possibly the end of this week (barring an injury or two uncharacteristically bad performances). Gore is only 27 years old, meaning he has ample time to add to his impressive resume. With the 49ers off to a 5-1 start, the idea of a Super Bowl ring is no longer far-fetched. A championship in concert with a couple of more seasons similar to his first seven should cement Gore's legacy as one of the NFL's all-time greats.

"Get outta my way! I've got to get to Canton!"

3

Adrian Peterson, Minnesota Vikings
– At age 25, Peterson already has more career rushing yards than Hall of Famers Gayle Sayers, Ollie Matson, Lenny Moore, Hugh McElhenny, and Steve Van Buren and he may pass Hall of Fame running back Floyd Little on his next carry. Averaging over 1,400 yards per year, Peterson, assuming he stays healthy, can hang up his cleats three years from now, before age 30, and be a slam dunk inductee.
Did I mention he is only 25?

4
POSSIBLE BRIDESMAIDS
Thomas Jones, Kansas City Chiefs
– The notion that a running back with more than 10,000 career rushing yards, who is still starting, could be a longshot for the Hall could sound laughable. However, that is the boat in which Thomas Jones may find himself. Jones is among the NFL's 25 all time leading rushers. Only two players, Super Bowl XXV MVP Ottis "O.J." Anderson and Super Bowl XXIX champion Ricky Watters, have more than 10,000 career rushing yards, have been retired for 10 or more years, and are not in the Hall of Fame.
While I personally think that Anderson and Watters' exclusions from the Hall are a travesty, Jones may join them. Watters' exclusion, in my opinion, defies all logic and reason; it's outrageous to me. Statistics never tell 100% of the story in football, but to exclude Watters, I think the voters must be collectively and categorically ignoring Watters' career statistics altogether. Please email me if you disagree; I'd love to know why.
O.J. Anderson's case is a tougher sell. Jones' career more closely resembles that of Anderson. Like Anderson, Jones had a long period of average, unspectacular play – Anderson in the last eight years of his career and Jones in the first five of his. Like Anderson, Jones' awards trophy cupboard is a little bare. Jones only has one Pro Bowl appearance, in an era with multiple alternates receiving invitations, and has never made Associated Press First Team All-Pro (or second team…or any other first or second All Pro team, such as Sporting News or Pro Football Writers). Anderson made the Pro Bowl in his first two seasons and was on one Associated Press All-Pro First team.
Like in this rushing attempt, Thomas Jones may be stopped short of the Hall.

5
Ricky Williams, Baltimore Ravens
– Ricky Williams is among the NFL's top 30 all time leading rushers. He is still active, averaging 4.7 yards per carry this season, on pace for a 500-600 yard season as a backup to Ray Rice. To put these numbers in perspective, in 2010, the Saints, the (Super Bowl champion) Packers, the Lions, and the Seahawks all had leading rushers with 716 yards or less. The Lions and Seahawks had leading rushers with less than 600 yards rushing. What this says is that Ricky Williams is producing above the expectations of a typical 33 year old, 11 year veteran backup running back.
Looks like Williams made it off of the island, too. This isn't Revis, though (picture from 2003).

6
He should be in Canton one day, right? Maybe not… Like Thomas Jones, Williams has very few awards, with only one Pro Bowl season, coinciding with his one First Team AP All Pro season, in 2002. Williams only had three seasons with 1,200 yards or more rushing, averaging only 3.5 yards per carry in one of those seasons (2003). The back breaker for Williams Hall of Fame candidacy may be the time he has spent off the field. Williams has missed all of or all but one game in three seasons (2004, 2006, 2007). Only the 2007 season was missed due to injury, the others because of Williams own doing, with an abrupt retirement and a year long suspension for a substance abuse violation.
FUTURE HOPEFULS
Unlike any other position in football, running back may be the only position with which one can reasonably discuss the Hall of Fame possibilities of a player shortly after he enters the league. Running back is a position which, for the best players, has an average "impact" shelf life of about 8 years, give or take a year.
The age of 30 is like the stroke of midnight for most running backs, with big seasons after that age being a rarity. Since 1950 only Hall of Famer Marion Motley (in 1950) and Curtis Martin (2004) have led the league in rushing after the age of 30. Barry Sanders (1997), Charles White (1987), O.J. Simpson (1976), Floyd Little (1971), and Jim Brown (1965) all led the NFL in rushing at age 29. All but White are in the Hall of Fame. For this reason, running backs are typically on a Hall of Fame path (or not) during or before the third year of their careers.
Chris Johnson, Tennessee Titans
- Barring injury, Johnson will eclipse the 5,000 yard plateau this season, possibly as early as this Sunday. In spite of his slow start to this season, in which Johnson did not have the benefit of training camp, I expect Johnson to be in the neighborhood of 1,200 rushing yards by this season's end. This would give Johnson approximately 5,800 rushing yards (well into the top 100 of all-time) and, minimally, 7,000 yards from scrimmage for his career through 4 years.

Good luck catching him.

7
Possibly the fastest player in the NFL, all Johnson needs to do is stay healthy and have 4 to 6 more Pro Bowl caliber seasons (or 3 to 5 more seasons comparable to his first 3) and his induction will be a no-brainer. This may be easier said than done, but it is within Johnson's grasp.
Maurice Jones-Drew, Jacksonville Jaguars
– MJD will likely be among the NFL's top 80 all time leading rushers after this Monday, at the age of 26. In addition to being a punishing runner, Jones-Drew is also a considerable receiving threat, with over 2,000 career receiving yards. He was also a feared kick returner early in his career, with to kickoffs returned for touchdowns in his first two seasons. He also has 63 rushing and receiving touchdowns in his career.
Three more high-level seasons plus some productive years at the end of his career should send Jones-Drew to the Hall. The key, like for every running back, is avoiding injury.
I don't envy this guy.

8
Don't forget to vote in the fan polls!
To advertise with The Daily Hat Trick, or to submit a guest column, please contact the editor at
eric@thedailyhattrick.info
.
The Daily Hat Trick is sponsored by
Sports N Stuff
. For great deals on jerseys, shirts, cologne, and other guy stuff, visit
http://www.sportsnstuff.biz/
.
* Statistics and all-time rankings from Pro-Football-Reference.com
1) Image from bolthype.com
2) Image from bleacherreport.com
3) Image from daylife.com
4) Image from zimbio.com
5) Image from bleedchiefs.sportsblognet.com
6) Image from life.com
7) Image from sports-headlines.net
8) Image from fantasyguideline.com