Through three weeks, the LSU Tigers are undefeated. LSU has beaten two ranked opponents, one in the top ten, and was successful in its first Southeastern Conference contest against Mississippi State in Starkville, Mississippi.
YOU'D BETTER RECOGNIZE
LSU has not suffered from a deficit of deserved attention from the national sports media in quite some time. Still, while many recognized how good this team is, LSU may have flown slightly under the radar in preseason, with SEC West rival Alabama and first week opponent Oregon occupying a higher rank.
The Tigers grabbed the nation's attention by beating last year's BCS Championship runner up at a neutral site in Dallas, Texas in a 40-27 thrashing. After turning rent-a-win opponent Northwestern (Louisiana) State into compost feed last Saturday, LSU turned its attention to its first SEC opponent of the 2011 season, the Mississippi State Bulldogs, in a nationally televised contest.
The Bulldogs are not the "same old" MSU team that in-conference opponents would look forward to when in need of a win. State Head Coach Dan Mullen has quickly turned the program around and must be taken seriously every week. ESPN flashed a statistic, during its broadcast, that LSU and MSU had met over 100 times in their histories, but last night's contest was the first time #3 LSU and #25 Mississippi State had both been ranked at the time of their meeting.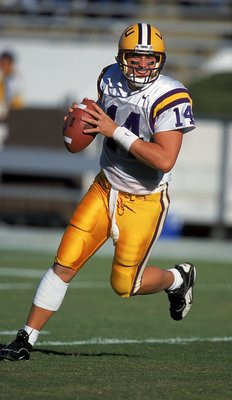 The last time Mississippi State beat LSU, Josh Booty (above) was the quarterback. Josh Booty...that name gave me a shiver!

2
SHUTDOWN DEFENSE
What was the same was the result. Mississippi State has not beaten LSU since 1999 and that did not change, as LSU won its 12th consecutive contest with State, 19-6. MSU contained LSU's offense and gave up very few big plays. As a result, they were very much in the game, late in the game.
The score was 6-6 with two minutes remaining in the third quarter. The Bulldogs defense played itself into a position to have a chance in the fourth quarter. The problem, for the Bulldogs, is that LSU pulled every plank from under MSU's offensive attack.
The Bulldogs averaged 321 rushing yards per game prior to last night's contest. Last night, MSU was held to a paltry 1.5 yards per carry, for a total of 52 total rushing yards. MSU running back Vick Ballard, who ran for 130 yards or more in each of his previous games, was held to 38 yards rushing, only carrying the ball 10 times. The smothering job the LSU defense demonstrated against Oregon was taken to a higher level against Mississippi State.
I wonder if there is a waiting list for the cold tub after last night.

3
ROAD TO THE BCS
Only one conference game into the season, it is far too early for the team to have much focus on the SEC Championship Game in Atlanta after the regular season, let alone bowl season. That has not stopped reporters and LSU fans from voicing their opinions. The consensus, from my vantage point, is that if Jarrett Lee can be efficient and not make the big mistake (he did that at a high level last night) and the defense stays healthy, this is a championship caliber team.
College football is played one week at a time. LSU, thus far, has passed all three of its tests with flying colors. The winner of the SEC, and the likely participant in the BCS Championship Game, will probably be determined on November 5th in Tuscaloosa when LSU travels to play Alabama and former LSU coach Nick Saban. Until then, all we can do is speculate on where this LSU team is going. My speculation is a lofty expectation and so, far, LSU is meeting the challenge.
Wide receiver Rueben Randle is helping Jarrett Lee transition to the starting QB role. After last night (6 rec., 98 yards, 1 TD), I think he helped Lee find a much larger comfort zone.

1
Don't forget to vote in the fan polls!
To advertise with The Daily Hat Trick, or to submit a guest column, please contact the editor at
eric@thedailyhattrick.info
.
The Daily Hat Trick is sponsored by
Sports N Stuff
. For great deals on jerseys, shirts, cologne, and other guy stuff, visit
http://www.sportsnstuff.biz/
.
1) Image from espn.com
2) Image from bleacherreport.com
3) Image from nola.com