Thursdays at this time of the year are my favorite. Why? I go from reaching and stretching to find something remotely interesting to the casual sports fan in Must See Sports when the menu is composed of regular season Major League Baseball, country club sports, and NASCAR. In September and October, this segment writes itself!
Thursday, September 15
(3)

LSU Tigers

at (25)

Mississippi State Bulldogs
LSU fell back to the #3 position behind Alabama, after leapfrogging Bama in week one, in spite of thrashing in-state Northwestern Louisiana by 46 points last week. We can probably expect this pattern to continue until the teams meet on November 5.
Mississippi State lost a very close game at Auburn last week. Already in a 0-1 hole in Southeastern Conference competition, the Bulldogs' backs are already against the wall in September. State will help their cause immensely in senior running back Vick Ballard can continue some of his early season dominance, albeit against the toughest defense, in LSU, which he will have faced so far. Ballard has galloped for nearly 10 yards per carry this season.
LSU, averaging 45 points per game, will likely pound the ball on the ground with an assortment of versatile running backs. Quarterback Jarrett Lee has thrown 32 passes in the season's first two games, but two of those passes were for touchdowns and none were interceptions. If Lee can continue to be mistake free and quietly effective, I doubt that this game against MSU will turn into the "trap game" that some in the media have billed this game. While State fans would be pleased, I doubt LSU coach Les Miles and his team are looking ahead to next week's showdown at #18 West Virginia and overlooking the Bulldogs.
Advantage: LSU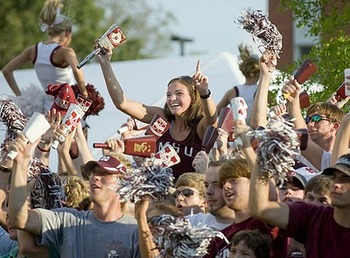 It is going to take a lot more than cowbells to upset #3 LSU tonight in Starkville, Mississippi.

1
Friday, September 16
Tampa Bay Rays

at

Boston Red Sox
James Shields (15-10, 2.70 ERA) – Rays vs. Josh Beckett (12-5, 2.49 ERA) – Red Sox
If you are a fan of Major League Baseball, it gets no better than this. The Rays and Sox will have their ace pitchers face off in the second game of a critical four game series at Fenway Park. The Red Sox have been slumping, in part because of an injury to Beckett. The Rays have been steady. I personally think that if the Rays win this series, they will eventually overtake the Red Sox and pull off one of the greatest September playoff rallies of the last 10 years.
Rays first baseman Casey Kotchman (.311, 9 HR, 45 RBI), the team's leading hitter, could help his team's cause by breaking out of a vicious tailspin that he has experienced in September, batting only .227 on the month. Kotchman has gone 1 for 4 or worse in 8 of the Rays 13 games this month, not enough for a player whose team does not hit for contact well and relies on manufacturing runs.
The Red Sox, in spite of a host of recent pitching problems, continue to slap the ball all over the park and absolutely must continue to do so if they expect to beat the Rays. Adrian Gonzales (.340, 26 HR, 110 RBI) has reached base in 11 of his last 12 games played and has an on base percentage of .479 in September.
The 1-2 power punch in the lineup from he and David "Big Papi" Ortiz (.313, 29 HR, 92 RBI) will have to carry the Red Sox. It is unclear how much rust Beckett will be shaking off. It is clear that his opposing pitcher, James Shields, will have no rust to shake, having struck out 6 or more batters in 9 of his last 11 starts.
Advantages – Game: Rays, Series: Rays
Josh Beckett is expected to make his first stat since spraining his ankle on September 5.

2
Saturday, September 17
(1)

Oklahoma Sooners

at (5)

Florida State Seminoles
I have been of the opinion that both Florida State and Oklahoma are slightly overrated. Do I think they are Top 10 worthy? Yes. But I think they are ranked too high. On Saturday, we should be treated to an exciting football atmosphere, and a competitive game. I will get to find out who it the least overrated of the two.
Oklahoma was off last week, but in its opening weekend tune-up against Tulsa, senior wide receiver Robert Broyles stood out with 14 catch, 158 yards performance, including a touchdown reception. Standing out, even more, in a sea of productive rushing performances, was the Sooners' junior running back Dominique Whaley, with a 131 yard, 4 touchdown performance.
Florida State is 2-0 in its first two, rent-a-win, contests this season. Junior quarterback E.J. Manuel threw for 329 yards and 4 touchdowns in last week's game against Charleston Southern. The Seminoles appear to be a team that is ready to utilize its air attack to win football games. Its first test will come against an Oklahoma team with lofty expectations on both sides of the ball.
Advantage: Oklahoma
Robert Broyles (right) hopes to pick up where he left off from last week.

3
Sunday, September 18
Chicago Bears

at

New Orleans Saints
The Bears march into the home of the Who Dat Nation, trying to go 2-0 against the NFC South after beating the Atlanta Falcons, soundly, on Opening Day. The Saints came off of a last second loss to the Green Bay Packers on Opening Night of the NFL.
Saints quarterback Drew Brees threw for over 400 yards against a very tough Packers defense. The Bears defense is tough, but they are not as physically gifted as the Packers. They will have a tough time stopping the Saints in their own stadium, thought the Saints will be without the services of their best receiver, Marques Colston, for up to 4 weeks due to injury.
Bears running back Matt Forte continued to dominate opposing defenses, last week, by racking up 158 yards from scrimmage. This is going to pose a problem for a Saints defense that has a lot of trouble tackling and stopping the run against the Packers. Still, the game is in the Superdome and I do not think that the Bears have the offensive firepower to go on the road and keep up with the Saints
Advantage: Saints
If the Packers came within inches of losing to the Saints at home, what do the Bears think they'll need to bring on the road to stop the Who Dat Nation?

4
Philadelphia Eagles

at

Atlanta Falcons
Michael Vick returns to the Georgia Dome as a starting quarterback for the first time since the Falcons released him in light of his federal dogfighting charges and subsequent conviction and incarceration. Having visited the Georgia Dome for a Falcons home game before, with Vick, I have seen, first hand, how beloved Vick was by the Atlanta fans while with the Falcons. His reception by the crowd should be interesting.
Back to the topic of football, though…. Vick and the Eagles looked very solid against the St. Louis Rams last week, with Vick running for 97 yards, himself. The Falcons have had their share of trouble against the run. This could make the day very long for Falcons quarterback Matt Ryan, if he finds himself in a shootout. Ryan threw 47 passes last week, but his team was only able to total 12 points against the Bears.
Advantage: Eagles


Vick returning to the Georgia Dome in 2009, as a role player, Donovan McNabb's backup. The spotlight will shine much more brightly on Vick this weekend.

5


Monday, September 19
St. Louis Rams

at

New York Giants
The Rams are a bit battered, with a hand injury to quarterback Sam Bradford and a quad injury to running back Steven Jackson. Bradford is expected to play. It does not appear that Jackson will.
The Giants are trying to rebound from a surprising loss to last year's most dysfunctional team, the Washington Redskins. Eli Manning threw an interception, but no touchdowns, not helping his cause to reverse that trend from a year ago.
However, the real let down for the G-men was the running game. Ahmad Bradshaw was the team's leading rusher with 44 yards. That will not be enough output to beat most NFL teams. I do, however, expect Eli to shake off his first week jitters and rust. I also expect Bradford to face a few tougher challenge in short and medium yardage situations, as he will likely have less of a running threat for the defense to account for.
Advantage: Giants
Tuesday, September 20
Tampa Bay Rays

at

New York Yankees
Wade Davis (10-9, 4.41 ERA) – Rays vs. A.J. Burnett (10-11, 5.20 ERA)
The Rays continue to claw back into the American League playoff race. The Yankees continue to cling to the American League East lead. Curtis Granderson (.269, 39 HR, 111 RBI) continues to bash the ball like an MVP. A.J. Burnett continues to make everyone scratch their heads with his underwhelming and inconsistent play this season.
Advantages – Game: Rays, Series: split
Don't forget to vote in the fan polls!
To advertise with The Daily Hat Trick, or to submit a guest column, please contact the editor at
eric@thedailyhattrick.info
.
The Daily Hat Trick is sponsored by
Sports N Stuff
. For great deals on jerseys, shirts, cologne, and other guy stuff, visit
http://www.sportsnstuff.biz/
.
1) Image from bleacherreport.com
2) Image from espn.com
3) Image from vegassportsbetting.com
4) Image from romerphotobog.com
5) Image from kevinmcguire.blogspot.com