Last week we
reviewed the progress of the National League's 16 teams at the one-quarter mark
. As promised, here is the American League. My one-quarter mark comments in
blue
.
AMERICAN LEAGUE
A.L. East
Tampa Bay Rays
(31-23, 1st place)
– This team began to find "it" last September. By and large, the staff is the same, but a year more experienced.
Simply the best managed team in Major League Baseball. Having the brightest budding star starting pitcher in David Price (7-3, 2.44 ERA, 62 K) doesn't hurt, either.
Toronto Blue Jays
(28-26, 4th place)
– This is my dark horse team. This team has been competitive the last two seasons. Behind the bat of Jose Bautista, the Jays should continue to put runs on the board in many games. The pitching HAS to improve, but I think that the addition of high-potential Henderson Alvarez to the starting rotation and acquiring closer Sergio Santos from the White Sox can give the Jays the extra backbone to surprise the A.L. East.
Sergio Santos (0-1, 9.00 ERA) has done nothing but Edwin Encarnacion (.279, 17 HR, 43 RBI) has helped give Joey Bats (Jose Bautista - .226, 14 HR, 37 RBI) the extra bat in the lineup to turbo charge the Blue Jays' lineup. Toronto is in fourth place, but only 3 games back of the Rays.
New York Yankees
(29-24, 3rd place)
– Solid at every position from top to bottom, but the pitching staff is aging and showed a number of signs of inconsistency last year. Derek Jeter and Alex Rodriguez cannot outrun Father Time forever, either.
Apparently the pitching staff can't but The Grandy Man can (Curtis Granderson - .261, 17 HR, 33 RBI)! The pitching has to beef up or they will not win this extremely tight, hotly contested division.
Boston Red Sox
(28-26, 4th place)
– I think the long term impact of last year's September meltdown and subsequent management fallout is grossly underestimated by fans and reporters. The loss of closer Jonathan Papelbon won't help the cause of the BoSox, either. The curse of The Bambino is back, baby!
I have
expected doom for the Red Sox all season
and, technically, no team in the A.L. East has a worse record, but Bobby V. - in his...unorthodox manner - has the BoSox withing striking distance.
Ba
ltimore Orioles
(30-24, 2nd place)
– This has been the best cellar dweller in baseball for two years running. I expect a third. #BigFishInASmallPond
EHHHHHHHH! WRONG! The O's have been the most pleasant surprise of the year. Buck Showalter has been building this once proud franchise back up, brick by brick, for the past two years and the fans at Camden Yards finally have something to cheer about. Adam Jones (.315, 16 HR, 34 RBI, .602 SLG) appears to be realizing his potential, as is Jason Hammel (6-2, 3.06 ERA, 58 K).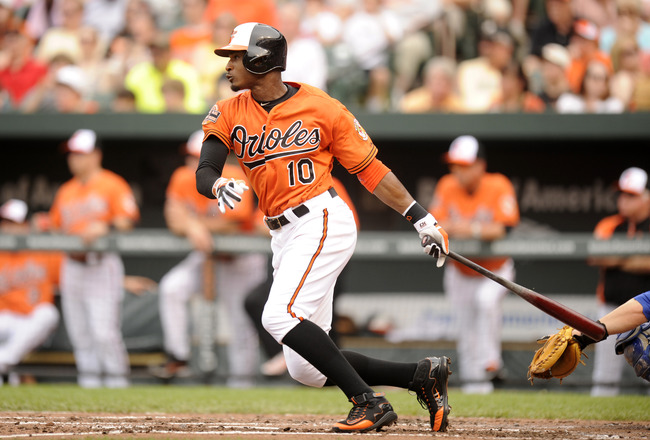 Baltimore Orioles star outfielder Adam Jones has the O's gunning for the A.L. East title. Two years ago, I would have told anyone uttering those words (Orioles, star, A.L. East title) that he is on drugs.

1
A.L. Central
Detroit Tigers
(25-29, 3rd place)
– Instead of a paragraph, how about a haiku?
They're already good
Then they add in Prince Fielder
Central race is done!
Justin Verlander
Must be the only pitcher
Worth a good ___ damn
Cleveland Indians
(28-25, 2nd place)
– If starting pitcher Ubalbo Jimenez can regain his form from his best days in Colorado and stop throwing at former teammates' heads, perhaps the Indians can finish second and possibly make a run at the American League Wild Card.
They have gotten off to a good start, much like last year. I simply do not think the pitching, particularly the bullpen, is going to give The Tribe what they need to compete into the fall. Ubaldo Jimenez (5-4, 5.79 ERA) has done nothing!
Kansas City Royals
(23-29, 4th place)
– Stuck in mediocre, which is an improvement over the last decade.
They can't pitch a fit, let alone a decent nine innings.
Chicago White Sox
(31-23, 1st place)
– White Sox Fan is about to find out just how many shortcomings former manager Ozzie Guillen was able to cover up through shrewd management (and the occasional motivational F bomb).
I never doubted that the Sox had talent. I just didn't expect them to put it together like this.The big difference? Adam Dunn (.222, 17 HR, 38 RBI). He already has my vote for Comeback Player of the Year.
Minnesota Twins
(21-33, 5th place)
– 2011 and 2012 – twin disappointments in the Twin Cities!
I like being right, but I'd prefer to be right with something positive. I guess one out of two ain't bad. The batting is mediocre. The starting pitching is awful. The bullpen is awful. The managing is awful. Josh Willingham's (.287, 11 HR, 39 RBI, .409 OB%, with Oakland in 2011) ability to land with a team worthy of his talents is awful.
The stadium is nice.
A.L. West
Los Angeles Angels
(28-28, 2nd place)
– They face a daunting battle with the Texas Rangers. The Angels were already pretty good and gave Texas a run all the way into September. Now they get Albert Pujols and former All Star Kendrys Morales returns to the lineup after missing much of 2010 and all of 2011. If your favorite team is not in this division, be glad!
C.J. Wilson (6-4, 2.64 ERA, 64 K) , acquired from the Texas Rangers, has been all he was cracked up to be. Two hundred million dollar man Albert Pujols (.236, 8 HR, 30 RBI) had not been in April. Kendrys Morales (.289, 6 HR, 20 RBI) got off to a bit of a bumpy April, but appears to be pulling it together. The team as a whole is mirroring its big hitters, in spite of stellar pitching. In a division with the Texas Rangers, offense is a must. It is too early to tell with this Angels team.
Texas Rangers
(32-23, 1st place)
– Seeking a third straight American League pennant. All of their key field players are back. There were no major changes to the pitching staff, but their division just got a lot tougher (see Los Angeles). I don't know if the pitching staff from last year can carry the Rangers past the loaded Angels.
First of all, I don't know what brain fart I was suffering from when I said, "
There were no major changes to the pitching staff," Their ace, C.J. Wilson defected to division rival Los Angeles. Boy did I screw the pooch on that one!
Regardless, the two-time defending American League champions haven't missed a beat. No doubt, Josh Hamilton (.348, 21 HR, 57 RBI, .407 OB%) has given this team an unexpected jolt, even by his high standards. Japanese import Yu Darvish (7-3, 3.34 ERA, 73 K) appears to be the replacement for Wilson that the Rangers had hoped for. I don't see how this team doesn't win the A.L. West, barring injury.
Oakland Athletics
(24-31, 4th place)
– Good, not great, pitching and weak bats are not a recipe for success in Major League Baseball.
I think it is stunning that the A's are in the cellar, especially after a promising first 30 games of the season (16-14). The problem, however, is that if your pitching isn't lights out, and it isn't in Oakland, and your bats are more like rubber hoses, and they are for everyone not named Josh Reddick (.271, 14 HR, 29 RBI), you aren't going to fare well in a 162 game season, and they aren't!
Seattle Mariners
(25-32, 3rd place)
– You can stick a fork in them before opening day. They can't hit the broadside of a barn with a shotgun from 10 feet away. Why exactly is Felix Hernandez wasting his career there, still?
They are .003 winning percentage points from being in the cellar, sticking their noses out momentarily while Oakland suffers that dubious distinction. I hope they enjoy their breath of fresh air. "Small ball" doesn't work when you can't hit the small ball!
Josh Hamilton of the Texas Rangers can be summed up with three letters: M.V.P.!
Don't forget to vote in the fan polls!
To advertise with The Daily Hat Trick, or to submit a guest column, please contact the editor at
eric@thedailyhattrick.info
.
The Daily Hat Trick is sponsored by
Sports N Stuff
. For great deals on jerseys, shirts, cologne, and other guy stuff, visit
http://www.sportsnstuff.biz/
.
1, 2) Image from
http://www.bleacherreport.com/
3) Image from
www.pinstripedbible.com