For those of you who completely tuned out all sports media over the weekend, the New Orleans Saints got into a little trouble. Reportedly, former Saints Defensive Coordinator Gregg Williams, under the supervision of Head Coach Sean Payton, implemented a bounty program for his defensive players. Allegedly, players would be paid cash bonuses for delivering hits to opposing players resulting in those players having to leave the game.
This topic hits home for me. The New Orleans Saints are my home team. So while I will not pretend, for a moment, to be completely unbiased, I will be as objective as I possibly can.
CHA CHING!

1
MAN'S GAME!!!
This is football! It is the one sport in which there is very little tolerance or expectation among fans, players, or coaches for softening up the game. While there is a legitimate and critical business reason, the multitude of NFL rules protecting quarterbacks and wide receivers have come under criticism from fans, the media, and, perhaps most vocally, players for being too protective and soft. It is not surprising that the reaction among many players, as well as fans, was, "It's football. Sack up!"
The practice of players receiving (relative to most salaries) token bounties as a reward for laying out an opposing player is decades old. Former NFL Head Coach Buddy Ryan (father of New York Jets Head Coach Rex Ryan) was exposed for instituting a bounty program when he was the coach of the Philadelphia Eagles. Allegedly, Gregg Williams implemented similar programs when he was the Head Coach of the Buffalo Bills and an assistant with the Washington Redskins. It isn't new.
What do Randy Moss and Gregg Williams have in common? Straight cash, homie!

2
LET'S NOT LOSE OUR HEADS
Regardless of the violent, macho nature of football and the bloodlust among fans, players, and coaches, player safety has nonetheless become paramount in the NFL during the past few years. In 2010, the issue of concussions made headlines. Repeated, graphic images of players absorbing blows to the head and requiring assistance to leave the field of play resulted in swift and significant changes implemented by NFL Commissioner Roger Goodell to further enforce player safety rules.

Therein lay the public relations and potential legal problems for the NFL. Even the most thrill seeking NFL fans do not want to see players carted off of the field from suffering brain or spinal injuries. In addition, the NFL has witnessed a rash of former players suing the league for willfully promoting unsafe playing conditions and withholding information about the dangers of concussions for its own benefit (i.e. players returning to the field too soon). A scandal involving a bounty system runs directly against the direction the NFL has taken regarding player safety.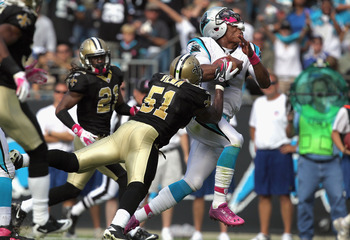 If you have a big head against the Saints, you could lose it.

4
IT'S NOT THE CRIME; IT'S THE COVER UP
Ultimately, the Saints are going to experience the most painful consequences from the Bountygate flap because of the below-board nature in which the program was conducted. The Saints allegedly engaged in this practice during all of Williams' tenure in New Orleans, between 2009 and 2011. According to media reports, the Saints were discovered and warned about this practice in the past. They were instructed to discontinue the program. They didn't.
Even the most casual observer of Roger Goodell's reign as Commissioner knows that Sheriff Goodell gets what Sheriff Goodell wants. If he doesn't, woe betides the people in his way. The New England Patriots were fined a total of three quarters of a million dollars and docked a first round draft pick for a scandal involving improper filming of game footage (also after previously being warned by Goodell).
Nobody was injured in the so-called "Spygate" scandal. In an era of pro football in which player safety is a top priority of the league, the Saints can expect worse…much worse. A year long suspension of Gregg Williams and some type of suspension of Sean Payton, on top of fines and lost draft picks, would not surprise me. Players most prominently involved should not sleep too soundly either. The rhetoric in the media of the league office and league officials has made it clear to me that the Saints players and coaches involved in this series of incidents can expect to have a glaring example made of them.
To advertise with The Daily Hat Trick, or to submit a guest column, please contact the editor at
eric@thedailyhattrick.info
.
The Daily Hat Trick is sponsored by
Sports N Stuff
. For great deals on jerseys, shirts, cologne, and other guy stuff, visit
http://www.sportsnstuff.biz/
.
1) Image from
www.nola.com
2) Image from
http://content.usatoday.com
3) Image from
www.foxsportsarizona.com
4) Image from
www.bleacherreport.com
5) Image from
www.draftdaysuit.com