Syracuse locked up the Big East regular season championship and the top seed in the conference tournament quite some time ago. Marquette comfortably sat in second place after this past weekend. While the #3 and #4 seeds, which would receive first and second round byes in the 2012 Big East Tournament, were still available to several teams, Notre Dame, who was riding a nine game winning streak prior to last Saturday, had a leg up on Georgetown for the third seed. Georgetown appeared to be hanging on to the fourth spot and the two round bye. Then last night happened.
Georgetown freshman Otto Porter slices past three Notre Dame defenders en route to the basket.

1
UNCERTAINTY IS CERTAIN
The once blazing hot Notre Dame Fighting Irish has little pieces of them left all over the Verizon Center, getting obliterated by 18 points at Georgetown. Notre Dame was never really in the game. After the game, Big East fans were left with a host of possibilities that could shift several teams up or down by several seeds between now and the end of the regular season this Sunday.
As of this morning, there are five teams - Cincinnati, Louisville, South Florida, Notre Dame, and Georgetown, who, collectively, could be seeded anywhere between the #2 seed (ensuring a two round bye and a favorable quarterfinals matchup) and the #7 seed, forced to compete in the round of 16 with unfavorable matchups being likely in the subsequent rounds. Marquette, currently in second place, could fall to as low as fourth place with back-to-back losses against Cincinnati and Georgetown to close out the regular season.
The Bearcats are currently in sixth place. They could still finish third after Saturday.

2
RACE TO THE FINISH
Like last year, there is tremendous concentration at the top of the Big East. Like last year, the Big East, who sent nine teams (including eventual champion, 9th place regular season finisher Connecticut) to the NCAA Tournament last year, could be the conference leader in teams invited to the Big Dance. And like last year, all of the questions, except for where Syracuse can expect to be seeded in the March Madness, will have to be sorted out by the results in the Big East Tournament.
The tournament cannot start until the regular season finishes are settled. Five Big East games will be played in the next five games to decide six different seeds. Get your popcorn ready!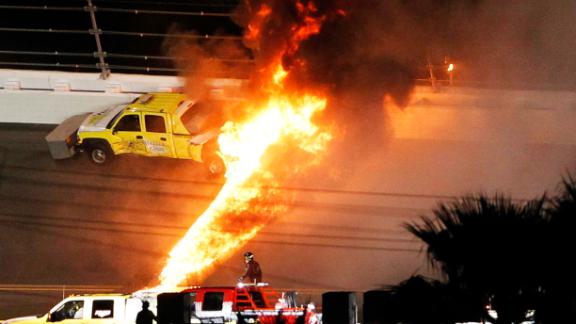 The Big East race is as explosive as the Daytona 500 was last night!

3
Don't forget to vote in the fan polls!
To advertise with The Daily Hat Trick, or to submit a guest column, please contact the editor at
eric@thedailyhattrick.info
.
The Daily Hat Trick is sponsored by
Sports N Stuff
. For great deals on jerseys, shirts, cologne, and other guy stuff, visit
http://www.sportsnstuff.biz/
.
1) Image from
http://www.baynews9.com/
2) Image from
http://www.foxsportsohio.com/
3) Image from
http://espn.go.com/