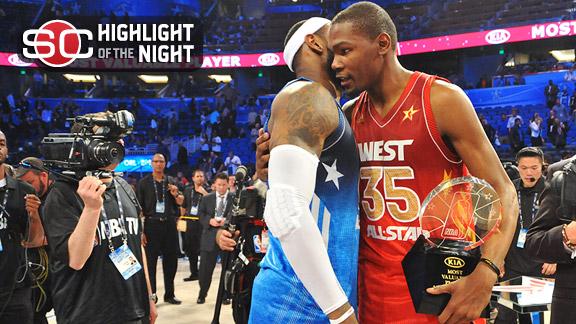 2012 NBA All Star Game MVP Kevin Durant (right)

2
In the 21st century elite, star professional athletes are business entities unto themselves. For the vast majority, the bonus money earned for participating in all-star exhibitions is a pittance, mere pocket change that may not be worth the effort expended to participate in the event. As a result, players seldom leave all of their efforts out on the field of play.
This "sports light" is especially visible in the National Football League's Pro Bowl. Football is a rough and dangerous sport. Contracts are usually not guaranteed. The league put a number of rules in place: no blitzing, set, standard formations on both sides of the ball, restrictions on blocking, tackling, and coverage techniques, etc., to minimize the risk to players. The result looks like a backyard football game on a full sized field with helmets and pads, not football.
Notice anyone racing to disrupt or sack Cam Newton (left)? Neither do I.

3
The NBA All-Star Game, for decades, has been conspicuously void of tight defensive play. Still, what I observed tonight was far more entertaining and closer to "real" NBA basketball than last month's Pro Bowl was to "real" NFL football. Nice, athletic dunks were performed. Difficult shots were attempted and made. And in the final minutes of a close All Star Game, the players, with pride and ego at play, appeared to be playing at more than 90%, if not 100%.
In the matchup of All Star Games, the Western Conference's 152-149 conference over the Eastern Conference was a 1-up by the NBA over the NFL.
At least LeBron and company gave us something worth watching.

1
Don't forget to vote in the fan polls!
To advertise with The Daily Hat Trick, or to submit a guest column, please contact the editor at
eric@thedailyhattrick.info
.
The Daily Hat Trick is sponsored by
Sports N Stuff
. For great deals on jerseys, shirts, cologne, and other guy stuff, visit
http://www.sportsnstuff.biz/
.
1) Image from http;//tampabay.sbnation.com
2) Image from http;//espn.go.com
3) image from www.zimbio.com