Last week's advantage/disdvantage record: 3-2
Must See Sports 2012 record: 10-9
Well, Hat Trick readers, this is the first weekend in quite some time but, unfortunately, won't be the last, that there won't be any meaningful football games. This is the sports gods way of transitioning us in to the NBA season and prepping us for the pulse-pounding drama of March Madness.
Thursday, January 26
NCAA Men's Basketball
#17

Indiana Hosiers

at #25

Wisconsin Badgers
This Big Ten matchup could possibly determine an at-large bid into the NCAA Tournament in March. Minimally, it will have an impact on seeding for the Big Ten Tournament. The Badgers have been inconsistent in conference play. The dropped three of their first four in Big Ten play, then reeled off four in a row, beating (then) #25 Illinois on Sunday. Their star player, Jordan Taylor (14 PPG, 4 APG, 4 RPG), continues to lead the team in scoring, but he is shooting less than 40% from the field and is four points below his per game average from 2011.
The Hosiers have also had ups and downs. After getting off to a blazing hot 15-1 start, with wins over #1 Kentucky and #2 Ohio State, Indiana went into the tank, losing three in a row before snapping their losing streak last Sunday at home against a grieving Penn State team (legendary Penn State football coach Joe Paterno died Sunday morning). The Hosiers were ranked as high as #8 earlier this month, but have fallen to #17.
Junior forward Christian Watford (13 PPG, 6 RPG), who averaged 16 points per game last season, has not scored more than 13 points in his last five games, including an abysmal 1 for 7, four point performance in a loss to Minnesota. Watford needs to pick up his more typical share of the weight and lend a hand to freshman sensation forward Cody Zeller (15 PPG, 6 RPG) to snap Indiana out of its funk.
This game could tip either way, but is at Wisconsin. The Badgers have more experience playing together and the Badgers appear to have bottomed out of their early January slump while the Hosiers may still be finding their way.
Advantage: Wisconsin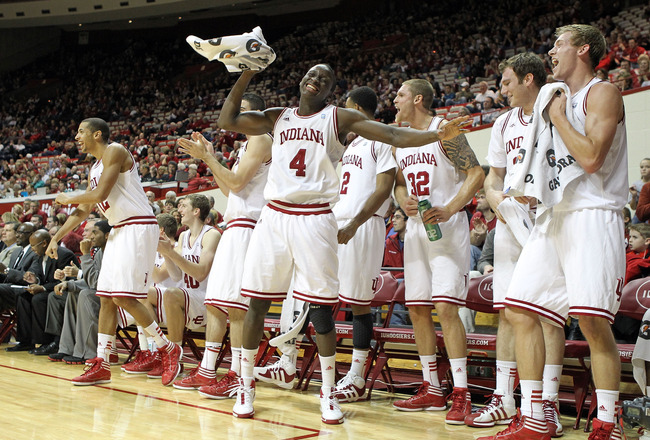 Indiana's stunning upset over #1 Kentucky feels like a L..O..N..G time ago in Hosier Country.

1
Friday, January 27
NBA
New York Knicks

at
Miami Heat
The Knicks 2012 season is not starting off as many had expected. Losers of 7 of their last 8, the Knicks have found themselves in a deep hole, five games back of the Philadelphia 76ers in the Atlantic Division (less than 20 games into the season) and in 10th place in the Eastern Conference. Their issue is depth. Carmelo Anthony (24 PPG, 7 RPG, 4 APG) and Amare Stoudemire (17 PPG, 8 RPG) are holding up their ends, but there are no other consistent high performers in the starting lineup. The Knicks do not get enough second chance points and are not moving the ball around enough on offense to keep pace with their opponents. Point guard Baron Davis' arrival to the lineup, possibly in February, may provide a spark.
The Miami Heat are in first place in the Southeast Division and, for the most part, are performing exactly as expected. Averaging 105 points per game, the Heat are having no trouble putting points on the board. Dwyane Wade's (20 PPG, 5 APG) status continues to be day-to-day, as he has not played since January 13 with an ankle injury. Interestingly, the Heat have won five of their last six, starting with Wade's first game missed. Wade traveled with the team to last night's win at Detroit, but did not play. That could be a sign that Wade could return for Friday's game.
Advantage: Heat
I'm not suggesting the Heat are better off without Dwyane Wade, just that they can manage.

2
Saturday, January 28
NCAA Men's Basketball
#16

Mississippi State Bulldogs

at #13

Florida Gators
Big matchup in the SEC. Those of you who read regularly probably think I like to pick on the Gators. Not true. I think they are good but not great and it seems like every time they have a chance to win a game that could launch them to an elite level, they prove me right.
Winners of three straight, all SEC games, the Gators and junior guard Kenny Boynton (18 PPG) continue to try to prove me wrong. Boynton and his senior partner in the backcourt, point guard Erving Walker (13 PPG, 5 APG) lead a Gators team averaging 82 points per game. The Bulldogs will have their hands full.
MSU, like Florida, is just two games back of Kentucky for first place in the SEC. Sharp shooting junior forward Arnett Moultrie (16 PPG, 11 RPG) and point guard Dee Bost (16 PPG, 4 APG) have carried the Bulldogs off to their strong start. State's strong defensive presence and muscle under the boards could pose a challenge for the Gators. But, as I said, I am no Gator hater. They are at home and while the Bulldogs are good, they are not quite the caliber of team that give the Gators serious problems.
Advantage: Florida
Florida's Erving Walker has quietly been the Gators' "1a" to Kenny Boynton's "1".

3
NFL
2012 Pro Bowl
NFC vs AFC
The NFL's best face off from Honolulu, Hawaii. You can expect to see many of your favorite start players. What you will not see is anything that resembles real football. There are a plethora of rule restrictions, rightfully so, to aid in player safety. Expect the final score to resemble a college basketball or Arena Football League game.
NFL Football!!! This is far from it.

4
Monday, January 30
Yours truly turns 37 on Monday, another year older, another year gone (not so sure about "wiser"). I plan on celebrating the day with some hoops action, should I have any time in front of the tube.

NBA
Oklahoma City Thunder

at

Los Angeles Clippers
The team with the best record in the NBA heads west to take on the team creating the most buzz in this NBA season. The Okalhoma City Thunder have just kept rolling, winners of 10 out of their last 11. Kevin Durant (26 PPG, 7 RPG) is making a good run at yet a third straight scoring title, though he will have some stiff competition from Kobe Bryant and LeBron James. The Thunder have the best record in the league.
The Clippers received a ton of preseason hype with the acquisition of point guard Chris Paul (18 PPG, 8 APG). So far, they have lived up to it. The Clippers are in first place in the Pacific Division. I could not tell you the last time they were in first place after the first 15 games of the season. If Lob City is to remain in first place, they will need to win the tough games, though.
That includes this game against the Thunder. Still, while the Clippers have been impressive, they are still new to success and their play leaves some consistency to be desired. One night they score over 100 points; the next night they cough up 100 points against an inferior opponent. Earlier in the month, they beat the Heat and Lakers in successive games. Shortly after, they are taken behind the woodshed, losing by 29 points at Utah. Oklahoma City is not a sexy town or a big television market, but their basketball team is very good and has been playing at a high level for several seasons now.
Advantage: Thunder
#19

Connecticut Huskies

at #10

Georgetown Hoyas
The defending national champion Huskies have gotten off to a bumpier-than-normal start after the departure of Kemba Walker to the NBA. The Huskies are in eighth place in the Big East. Of course, they finished ninth in the 16 team Big East in 2011 and won the NCAA tournament. Sophomore Jeremy Lamb (17 PPG, 4 RPG), who came on strong during last year's March Madness has ascended to a bona fide team leader. His facilitating and shooting ability in concert with the Huskies smart but physical style of play defensively are the Huskies' strong suit.
Georgetown is another team that comes close to cracking into the top tier since last season, but has often been stopped at the gates of the NCAA's Big Boys Club. Hollis Thompson (14 PPG, 5 RPG) has helped the Hoyas, 2nd place in the Big East, keep chase with the blazing hot Syracuse Orange (21-1 overall, 8-1 Big East). This will be Georgetown's toughest challenge since an early January loss to Marquette. It will also be a tune up before their showdown with #4 Syracuse one week after this game.