Happy New Year! With the new year comes the NFL playoffs and all of the dramatic twists and turns of the NFL en route to the Super Bowl! Oh yeah, there's a little basketball action, too.
Thursday, January 5
NBA
Dallas Mavericks

at

San Antonio Spurs
Divisional powers butt heads in the lone start state. San Antonio may be getting "older", but they're consistent. The core of the team from its championship runs is largely intact. For that reason, they continue to win a lot of games in the regular season. Guys like Manu Ginobli (17 PPG, 4 RPG, 59% FG) don't get "older". They get "smarter". San Antonio is executing and minimizing mistakes as well as any NBA team in this young season.
The Mavericks lost some key pieces, such as center Tyson Chandler and point guard J.J. Barea. They did pick up Vince Carter (9 PPG, 3 RPG, 34% FG) and paid quite a bit to acquire him. It isn't translating. Carter is shooting horrifically and has only started once this year. The defending champs are being beaten under the boards badly and it has translated to a slow, 3-4, start to the season. Until Carter can improve his shooting and give the Mavs more minutes, and the team, as a whole, can toughen up under the boards, the losing will continue.
Advantage: Spurs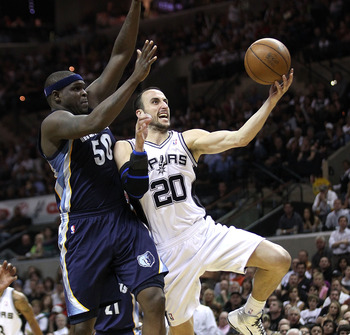 Manu Ginobli = Steady Eddie

1
Saturday, January 7
NFL Playoffs
Cincinnati Bengals

(9-7) at

Houston Texans

(10-6)
The Hat Trick gave a soft preview of this matchup in its
AFC playoffs preview
on Tuesday. I will not equivocate today, as I did not equivocate on Tuesday. I expect the Bengals to win.
Houston radio station KILT host Josh Innes stated that the Texans were 3 point favorites as of yesterday. I just don't see it. The offense, against any competent defense (such as the Bengals) appears to have ground to a halt under rookie quarterback T.J. Yates. In fact, against a not-so-great defense, like the Colts, the offense ground to a halt.
I do expect the score to be low. The Bengals have an offense that does not make a lot of mistakes, but does not have many playmakers besides their super-rookie duo of quarterback Andy Dalton and wide receiver A.J. Green. The Texans have an excellent defense. They are also at home, where it will be loud and rocking.
So why do I think the Texans will lose? As great as their running attack is, the Bengals defense is not going to allow that one dimension of the Texans' offense to dominate the game. The heath of Pro Bowl wide receiver Andre Johnson is questionable. The confidence of Yates is suspect. The travel coordinator of the Bengals should start looking for hotels in and flights to Boston.
Advantage: Bengals
Detroit Lions

(10-6) at

New Orleans Saints

(13-3)
Also
previewed earlier this week
.... Here is the deal: the Lions have one strong dimension and the Saints only have one dimension that is not strong. Interestingly, the strength of the Lions, the passing game, does exploit the Saints non-strength, pass coverage. Still, I doubt that will be enough to beat the Saints at night in the Superdome, where every opponent, including the Lions, has failed to beat them this season.
The Saints pass the ball like no other team in the history of the NFL. They run the ball very well and will have a trio of fleet feet in Pierre Thomas, Darren Sproles, and Chris Ivory ("The Ivory Tusk") with which they will attack Detroit's shaky run defense. In addition, the Lions are feast or famine against the pass.
Pro Bowl defensive tackle Ndamukong Suh will be in the lineup, unlike the December meeting of these teams. The Lions are very good at getting pressure on the QB. The problem is that when they don't get to the passer, particularly the better passers, they get torched. It doesn't get much better than Saints quarterback Drew Brees.
Advantage: Saints
Drew Brees' 2011 season: last name, "Ever", first name, "Greatest"

2
Sunday, January 8
Atlanta Falcons

(10-6) at

New York Giants

(9-7)
I expect the Falcons to go on the road and win this game. The consensus in the media and my personal sampling of the general public seems to be split 50/50 on this game. I think the Falcons will win for the following reasons.
The Giants are inconsistent as a team. The Falcons are, too, and that would be a fair criticism. However, the Falcons have been their worst and most exposed against teams with winning records, such as the Bucs (at that time), Saints, and Texans and the exposure, particularly in pass coverage, has been visible, but not glaring.
The Giants are the same team that was taken behind the woodshed at home by the Seattle Seahawks. They can look great against the Cowboys, but be swept by the Redskins. They can come less than a minute away from taking the Green Bay Packers to overtime, and then implode against a struggling Eagles team.
The Giants defense is bad, their running game is awful, and they are facing a potent offense that stuffs the run. Eli is very good; he isn't that good, to where he can lift a team to a playoff win with minimal help.
Advantage: Falcons
Stopping Michael Turner will be no picnic for a team with defensive holes like the G-men.

3
Pittsburgh Steelers

(12-4) at

Denver Broncos

(8-8)
Broncos GM John Elway wants Tim Tebow to "pull the trigger" against the Steelers. The gun will be aimed right at Tebow's foot. Tebow is not a good NFL passer. He is not now and with his mechanics at this point in his career, I doubt that he ever will be. He struggled to complete a pass (to players not in a Bills uniform) against the Buffalo Bills, with a ball hawking defense, but, nonetheless near of bottom of the league in total defense. I can't imagine how he will fare against the #1 defense in football, the Steelers.
The Broncos defense will make Ben Roethlisberger uncomfortable and their running attack will keep the Steelers' defense honest. Still, it will take a Tebow miracle or oxygen depravation from Denver's high altitude severely compromising Steelers coach Mike Tomlin's judgment for the Steelers to drop this one to the Broncos, with Tebow "pulling the trigger".
C'mon man!
Advantage: Steelers
Tim Tebow is probably going home after Sunday. I have no sympathy. Look at the kinds of girls he gets to go home to.

7
Monday, January 9
BCS National Championship Game
#1

LSU Tigers

vs. #2

Alabama Crimson Tide
The SEC Champion Tigers are a quasi home team, playing just over an hour away from Baton Rouge at the Mercedes-Benz Superdome in New Orleans. We could go around and around in circles about how Alabama did not win their division and does not deserve to be in the game after losing, at home, to LSU in November. We could analyze the teams to the nth degree. But it will all come down to this:
Both teams have extremely good defenses. Both teams have extremely good running games. Both teams are unexciting in the passing game. Both teams are well coached. The difference is that LSU is far more battle tested and, after shutting Bama's offense down and edging them in their own house, LSU has gotten BETTER. They have beaten nine ranked opponents and went from out dueling teams like Oregon and West Virginia to blowing the doors off of outstanding SEC schools like Arkansas and Georgia.
Bama couldn't beat LSU the first time at home. I don't see them beating an improved LSU team at an LSU-friendly "neutral" site.
Advantage: LSU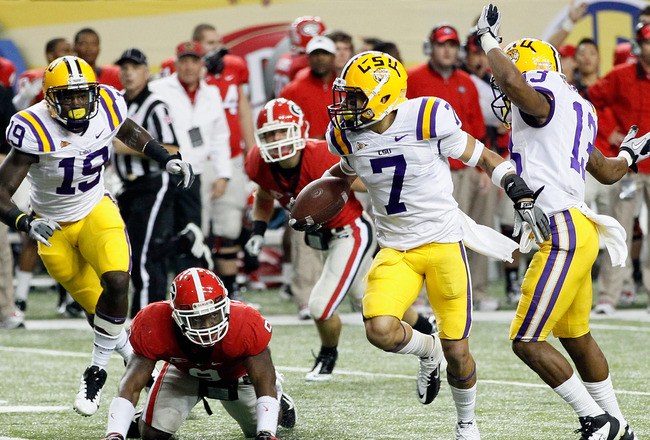 The Honey Badger takes what he wants!

4
Tuesday, January 10
#4

Baylor Bears

at #23

Kansas State Wildcats
Baylor may be the best team that the fewest people have heard of in quite some time. They have run over every obstacle in their path, so far, and could not be in a better position as Big XII conference play begins heating up.
K-State Head Coach Frank Martin has his work cut out for him. Last season, his Wildcats were ranked high early in the season, but sputtered as conference play began. That pattern could be rearing its ugly head again. The Wildcats are in danger of dropping out of the top 25 after being hammered last night at Kansas, in spite of a 15 point, 5 rebound, 3 steal performance from junior guard Rodney McGruder (13 PPG, 5 RPG).
Baylor stars like senior forward Quincy Acy (13 PPG, 7 RPG) and sophomore big man Perry Jones III (13 PPG, 7 RPG) may not be household names…yet…but the Bears only need to keep winning to change that. They are 14-0 so far with wins over BYU, West Virginia, Mississippi State, and Texas A&M.
Baylor appears to be living up to the early season hype from their fast start. Kansas State appears to be following a familiar, and undesirable, pattern.
Advantage: Baylor
Quincy Acy, circa 2010: dunk. Matthew Dellavedova of St. Mary's: posterized.

5
Wednesday, January 11
Miami Heat

at

Los Angeles Clippers
The Heatles at Lob City…it doesn't get much better than this!
LeBron James (30 PPG, 8 RPG, 7 APG), to the surprise of nobody, is off to a fast start and positioning himself to wrestle the scoring title away from Kevin Durant of the Oklahoma city Thunder. What has been a surprise, and a pleasant one, is the fast start, off of the bench, of rookie point guard Norris Cole (11 PPG, 3 APG, 23 MPG). Cole's rapid progress has fueled rampant speculation that Mario Chalmers' (10 PPG, 4 APG, 23 MPG) days as the Heat's starting point guard are numbered.
Clippers Nation is abuzz with the arrival of All-Star point guard Chris Paul (16 PPG, 10 APG), teaming up with last year's Rookie of the Year, Blake Griffin (25 PPG, 10 RPG). The duo has been dubbed "Lob City", in expectation of a bevy of alley-oops from Paul to Griffin. So far, so good as the Clippers are tied with the Lakers for 1st place in the Pacific division....
All of that said, when the rubber hits the road, the seasoning, chemistry, and experience of the Heat is going to be too much for the youth and gelling-in-progress of the Clippers. The Clippers have been hammered under the boards in their first few game of this season. That, in and of itself, will make beating the Heat a tough task. The Clippers are very improved, but are still the opening act on the Heatles World Tour.
Advantage: Heat
Don't forget to vote in the fan polls!
To advertise with The Daily Hat Trick, or to submit a guest column, please contact the editor at
eric@thedailyhattrick.info
.
The Daily Hat Trick is sponsored by
Sports N Stuff
. For great deals on jerseys, shirts, cologne, and other guy stuff, visit
http://www.sportsnstuff.biz/
.
The Clippers in Must See Sports for a reason that is NOT dubious? I'm waiting for it to snow in June down here in Louisiana next!

6
3) Image from http://www.falcfans.com/
5) Image from http://www.yougotdunkedon.com/
6) Image from http://www.layupmag.com/
7) Image from http://www.blacksportsonline.com/