Date: January 11, 1987
Location: Cleveland Municipal Stadium, Cleveland, Ohio
Game: 1986 AFC Championship Game
Score: Cleveland Browns 20 Denver Broncos 13
Ball at: Broncos' 2 yard line
Time remaining: 5:32, 4th quarter
Result: 98 yard drive, led by John Elway, ending in a touchdown pass to Mark Jackson with 37 seconds remaining to force overtime. The Broncos' Rich Karlis kicked the game winning field goal in overtime.
Short term impact: John Elway is the talk of the sports world as the Broncos advance to Super Bowl XXI.
Long term impact: The series is known, universally, as "The Drive" by football fans everywhere. It was not the first fourth quarter comeback led by Elway, but it established his reputation, on one of the biggest stages, as a clutch performer. Elway would go on to complete a total of 47 game winning or game tying fourth quarter drives in his Hall of Fame career.
"The Drive", nearly 25 years ago, to the day.

1
Date: January 8, 2012
Location: Sports Authority Field at Mile High, Denver, Colorado
Game: 2011 AFC Wild Card Game
Score: Pittsburgh Steelers 23 Denver Broncos 23
Ball at: Broncos' 20 yard line
Time remaining: 15:00, 1st overtime
Result: Tim Tebow launches a bomb to a streaking Demaryius Thomas, over the Steelers secondary, for an 80 yard game winning touchdown on the first play from scrimmage in overtime.
Short term impact: Tim Tebow is the talk of the sports world (again) as the Broncos advance to the Divisional Round of the AFC Playoffs to play the Patriots at Foxboro. The defending AFC Champion Steelers are eliminated from the playoffs.
Long term impact: ?
I believe that Tebow is sincere in his faith. I believe what we see is what we get with him. I believe that the Big Guy loves all of us and that he couldn't care less about the outcome of a sporting event. He gave all of these athletes gifts and we get to watch His gifts on the greatest athletic stage in the world. Tebow's fortune is all but making me second guess my belief about whether or not the Big Guy cares about the game!

2
LOVE HIM OR HATE HIM?
Timothy Richard Tebow is the most polarizing figure in the National Football League. People usually either love him and want him to succeed or resent his publicity (relatively few people express a problem with Tebow personally) and want him to fail so the perceived mirage will end. One thing that is undeniable about Tebow's 2011 season: he continues to win. The Broncos are now two games away from the Super Bowl. Ben Roethlisberger, undisputed in the media as one of the game's best quarterbacks, and the Steelers are exiting the playoffs in the first round.
Divine intervention? Luck? Too much credit for his teammates' efforts? Poor mechanics? Inaccurate?
Nobody and nothing exists in a vacuum. The truth often lies somewhere in between two extremes. Let's break down some facts, as opposed to being sucked into "Tebow Mania", good or bad.
3
The Broncos were 1-4 when Tebow started his first game in Miami against the Dolphins.

Tebow won 7 of his first 8 starts.

Tebow is one of the least, if not the least, accurate quarterback(s) in the NFL, with a completion percentage of 47%.
Tebow has a 14 to 6 touchdown to interception ratio this season, including yesterday's playoff game, far above average.
In the games in which Tebow started and the Broncos won, his quarterback efficiency rating (a relative measure, in simple terms, of what the chances are of something "good" happening when the ball leaves his hand – the ballpark NFL average is approximately 85.0, over 95.0 is very good) has been 91.7, 98.1, 102.6, 61.3, 95.4, 149.3 (the maximum possible, or "perfect" rating is 158.3), 68.3, and 125.6, in order of all eight wins.
The Broncos, in their eight total victories this season when Tebow started, including the playoffs, allowed an average of 18 points per game, allowing 15 points or less in five of those wins.

Tebow averages 14 yards per completion.
Tim Tebow, a quarterback, had 660 rushing yards, averaging 5.4 yards per carry, during the regular season. This made Tebow the NFL's 28th leading rusher. There are only 32 NFL teams. This means that Tebow's production from the QB position would make him the leading rusher on several NFL teams. The 4.0 yards per carry threshold is the standard by which many judge a runner's efficiency. Tebow exceeds that.
Denver has the #1 rushing attack in the NFL, averaging 165 yards on the ground per game.
What does this tell us? Tebow, when he wins, has had some help. But he also helps his own cause. His rushing ability is a BIG problem for opposing defenses because if he takes off, he will make a gash. Five yards on the ground, every time a player runs, in a close game hurts the defense, no matter what the situation.
Tebow's accuracy problems are well documented and need a lot of work. But when he does connect, he is killing opposing defenses. Part of this is because Tebow's threat with his legs forces safeties to cheat up if they are to neutralize that threat, putting receivers in single coverage situations downfield. Often, these receivers are open and Tebow does throw a quality NFL deep pass.
Tebow takes care of the football. Tebow only has one multiple interception game this season, better than Drew Brees, Tom Brady, Matt Stafford, and Eli Manning. He throws two touchdowns for every pick. To paraphrase Sound bite Hall of Fame coach Jim Mora, Sr., "I don't care…WHO you play!" It is very difficult to beat even the most vanilla offensive team when they do not cough up the ball and run well.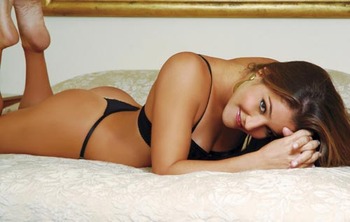 Tim Tebow mania has helped land him an endorsement for Jockey. How is Tim Tebow modeling underwear instead of swimmer Juliana Veloso? This is madness!

4
WHERE ARE YOU TAKING ME?
Long term? Tebow has taken the first step, a dramatic playoff victory against the odds, in becoming the next Broncos legend. He also has a very long way to go. But what is undeniable is that when defenses, even great defenses, have trouble adjusting to his unorthodox style of play, the Broncos have a chance to win every week. In addition, Tebow's fundamentals, by NFL standards, are bad, but they are improving. And the things that Tebow does well only need to happen a few times per game to put their opponent in a perilous position. His outstanding work ethic is well documented and his performance under pressure has been as good as Elway, the under pressure king, himself. Tebow is going to get BETTER.
Consistency is also a necessity for long term NFL success. Tebow laid a few eggs en route to helping his team back in to the playoffs. But, to quote the New Orleans area Bounce Rap pioneer Joe Blakk, "It ain't where you're from, it's where you're at!" The Broncos are in the second round of the playoffs.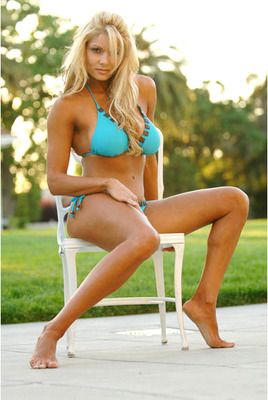 Ex-fighter wife Kim Couture. You mean SHE can't sell more underwear to men than Tim Tebow??

5