Bowl games are nearing us. The NFL regular season is approaching crunch time. This is a great week to be a sports fan!
Saturday, December 17
NCAA Basketball
#22
Texas A&M Aggies
at #13
Florida Gators
I promise that I have no anti-Florida agenda. But I have to take a moment to, once again, say, "I told you so," about the Gators. Once again, the Gators, then ranked #9, faced a test against an elite opponent in (then) #3 Syracuse earlier this month, with a chance to climb near the top of the college basketball ranks. Once again, the Gators lost, in spite of 22 points from Kenny Boynton. Syracuse has since climbed to #1 and Florida is out of the top 10.
The Aggies have hung around the periphery of the top 25 for several years. This year is no exception as the Aggies are ranked 22nd. Led in part by junior forward Ray Turner's (13 PPG, 6 RPG) all-around game, the Aggies have been able to win by holding opponents down, yielding 59 or fewer points in every win this year. The Gators will be A&M's second SEC opponent (Miss. St. – lost 69-60) and toughest test of the season.
Florida can handle everyone but the big boys. Texas A&M, who couldn't handle Mississippi State, is far from a "big boy". Basketball isn't bound by transitive properties, but I like the Gators.
Advantage: Florida
Boynton and the Gators look to rebound from the loss against Syracuse and get a win against a ranked opponent.

1
Sunday, December 18
NFL
Detroit Lions
(8-5) at
Oakland Raiders
(7-6)
Both of these teams have cooled off considerably since getting off to encouraging starts. The difference is that the Lions control their own playoff destiny while the Raiders, at the moment, are on the outside looking in. Two factors tip this match in Oakland's favor. The first is that the Raiders are at home. The second is that the Raiders have a punishing ground attack and the Lions have had trouble stopping the run all year.
On the other hand, Lions star defensive tackle Ndamukong Suh returns from a two game suspension and running back Darren McFadden of the Raiders is listed as doubtful for Sunday's game.
Advantage: Raiders
Michael Bush is holding down the fort in McFadden's absence.

2
New England Patriots
at
Denver Broncos
MEDIA GAME OF THE DAY. Executives at CBS are high fiving each other as this 4pm Eastern time, nationally televised game might set the high water mark for highest rated daytime regular season game this season. Get ready for Tom Brady vs Tim Tebow.
The media fallout in the event of a Broncos win is enormous. If you think you have heard endless Tim Tebow coverage, you ain't seen nothing yet if Denver wins. Brady's passing versus Von Miller and Denver's defense is going to be a fantastic battle. New England will not be shut down, but hey will not run up a tab of points, so to speak.
Denver's running attack is as potent as it gets and Tebow's passing is improving every week. New England's defense is absolutely laughable. It will likely shatter the 16 year old record for most passing yards surrendered in a season.
Cinderella's coach still turns back into a pumpkin on Sunday.
Advantage: Patriots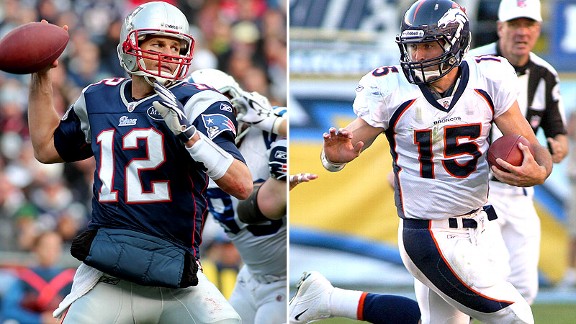 Brady vs Tebow: IT'S ON!!

3
Baltimore Ravens
at
San Diego Chargers
On paper, certainly record-wise, this game looks one-sided. However, the Chargers, during the Norv Turner era, have made a habit of getting red hot in the coldest month of the regular season. The Sunday Night Football audience will be treated to a resurgent Philip Rivers-led passing attack against the best collection of defensive players assembled, year-after-year, in a generation. Future Hall of Fame Ravens linebacker Ray Lewis is expected to return from a foot injury this week.
San Diego is at home and getting hot. They have the potential to win this game and I expect it to be close. Still, in an even money bet, I can't go against the Ravens.
It had to be killing Ray Lewis to stand by and watch.

4
Monday, December 19
Pittsburgh Steelers
at
San Francisco 49ers
This is the game of the week, with a ton at stake. This game has the potential to decide the second seed in the NFC Playoffs and the winner in the AFC North, who may be the top seed in the AFC Playoffs. Are you ready for some Monday Night Football?
Ben Roethlisberger may be held together by duct tape, but I expect him to start at quarterback for the Steelers. The Arizona Cardinals exposed the 49ers lack of a passing game and the sometimes soft underbelly of its secondary. In spite of being at home and facing a banged up Big Ben, I expect the Steelers, who have "been there" before, to show the Niners what it's like to be in prime time.
Advantage: Steelers
HOW does Ben Roethlisberger keep coming back???

5
Don't forget to vote in the fan polls!
To advertise with The Daily Hat Trick, or to submit a guest column, please contact the editor at
eric@thedailyhattrick.info
.
The Daily Hat Trick is sponsored by
Sports N Stuff
. For great deals on jerseys, shirts, cologne, and other guy stuff, visit
http://www.sportsnstuff.biz/
.
1) Image from
http://tampabay.sbnation.com
2) Image from http://articles.sfgate.com/
3) Image from http://www.espn.com/
4) Image from http://www.carrollcountytimes.com/
5) Image from http://sportsillustrated.cnn.com/