With the World Series having come to an end and the NBA lockout still in effect, this week offers you a big fat helping of FOOTBALL!!!
Saturday, November 5
#1

LSU Tigers

at #2

Alabama Crimson Tide
Four words: Game of the Century
Sporting events are often hyped up with hyperbole, but regular season games between #1 and #2 are rare. Such a matchup has not happened since Ohio State beat Michigan in 2006.** This game is of a heightened level of significance and interest because of the participants.
First of all, this is a Southeastern Conference game. There has never been a #1 vs #2 SEC regular season matchup, ever.** The SEC is the dominant conference in college football, having won six of the last eight, including the last five consecutive, BCS Championships. The SEC has a 62% lifetime winning percentage against the other five BCS conferences, including a 60% winning percentage in this decade (2010s).* If you disagree that the SEC is king, save it, because I am uninterested in your opinion on college football if you genuinely believe otherwise.
Second, the winner of this game, barring a rash of injuries or an epic collapse, is very likely to play in the BCS National Championship Game in New Orleans in January. No SEC team has ever lost a BCS Championship Game since its inception for the 1998 season.
Third, the coaching matchup features the eccentric and sometimes controversial Les Miles of LSU and former BCS National Championship winning LSU coach Nick Saban. The acrimony between the LSU fan base and Saban, in light of his defection to SEC rival Alabama, is well documented.
According to rivals.com, Alabama is favored by five points, as of Tuesday morning. I think that all five of points are because of Bama's home field advantage, which will be significant. On paper, not factoring the venue into the equation, this match is a even as one could be.
Alabama allows 7 points per game. LSU allows 12 points per game (LSU has faced five ranked opponents this season, compared to two for Bama). LSU is scoring 39 points per game. So is Alabama. Alabama averages 229 rushing yards per game, anchored by their stud running back and Heisman hopeful Trent Richardson. LSU averages 189 yards rushing per game. Both teams have unspectacular, but efficient, passing attacks.
Being a two-time LSU graduate (undergrad & graduate school), I have to fight every urge that I have to be biased. Throw the prior opponents and the statistics and the records out of the window. The first team to make a costly mistake is going to be the one to lose this game. Because Bama is at home, LSU has a slightly greater chance of making that mistake.
Advantage: Alabama
Miles-Saban V

1
#9

South Carolina Gamecocks

at # 7

Arkansas Razorbacks
In the unlikely event that the Game of the Century is a rout and becomes the Bust of the Century, there is a second option airing at approximately the same time. The stakes are high enough. Should LSU beat Alabama, the Razorbacks will control their own destiny in the SEC West division. South Carolina is currently in first place in the SEC East. As I mentioned, SEC Champion usually equals BCS Championship game participant. The tension for this game could be cut with a butter knife.
Arkansas quarterback Tyler Wilson (2327 yds., 13 TD, 3 INT, 63% comp.) continues to impress, leading an Arkansas passing game ranked #9 in the nation. His main target, Jarius Wright (44 rec., 709 yds., 7 TD) makes Wilson's job a lot easier. The Gamecocks, with a tough defense of their own, are going to have a difficult task containing the Hogs' air attack.
South Carolina wide receiver Alshon Jeffery (33 rec., 468 yds., 5 TD) will need to step up his game with the recent losses of running back Marcus Lattimore (818 yds., 10 TD, 5.0 avg.) and starting quarterback Stephen Garcia for the season due to injury and dismissal, respectively. Gamecocks Sophomore replacement Connor Shaw (562 yds., 6 TD, 3 INT, 63% comp.) has filled in effectively, but will need to be at his best to match wits with the Razorbacks' offense.
No Lattimore…little experience at quarterback…on the road…South Carolina has a tough task ahead of it.
Advantage: Arkansas
Hey, Beavis! He said, "Cocks"!

2
Sunday, November 6
New York Giants
(5-2) at
New England Patriots
(5-2)
The Giants are a team that sleepwalked through three quarters of its last game, a three point win over the 0-7 Miami Dolphins. The Patriots, again, had their Swiss cheese pass defense exposed at the hands of the Pittsburgh Steelers in a loss that looked better on the scoreboard than it did on the field. Both teams need a win as the Giants have a tough stretch of opponents and the Patriots are in a three way battle with the Buffalo Bills and New York Jets for the lead in the AFC East.
In the NFL, consistency beats out potential in the long run. The Patriots, in all of their strengths and weaknesses, have been consistent all season. The Giants have been erratic, with three wins over teams with a combined record of 2-19. In spite of having cupcakes on their schedule, the Giants have struggled to get their ground game, ranked 30th in the NFL, up and running.
Advantage: Patriots
The Patriots haven't forgotten, Plaxico or no Plaxico.

3
Baltimore Ravens
(5-2) at
Pittsburgh Steelers
(6-2)
I'll spare all twelve of you, who saw this the last two times, of the picture of Willis McGehee being hauled off on a stretcher with his face mask removed, from the 2008 AFC Championship Game. Here is what you need to know. Baltimore embarrassed Ben Roethlisberger and the Steelers in Week 1. Pittsburgh rallied and is now in first place. None of that matters.
I'll defer to home field advantage and quarterback play, both of which favor the Steelers, for my expectations for this game. I think the Steelers will win, but don't take that to the bank. This will be intense.
Advantage: Steelers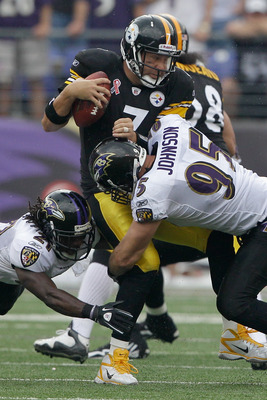 Roethlisberger has a score to settle.

4
Monday, November 7
Chicago Bears
(4-3) at
Philadelphia Eagles
(3-4)
A meeting between two team with a combined .500 record may seem ordinary. The sequence of events and the cast of characters make this game compelling. There couldn't be two more contrasting signal callers than Jay Cutler and Mike Vick. Or could there be?
Both are strong willed. Both have significant factions of fans who do not like them. Both have a lot to prove. And both have offensive lines that are not giving them the help that they need.
Philadelphia is on a bit of a roll. In addition, they have more potent weapons. Chicago also has a substantial advantage up front. While opposing quarterbacks have torched them in the air, the Bears have a front seven capable of containing Eagles stud running back LeSean McCoy while putting Vick under so much pressure that he may not deliver the best passes downfield. Still, I think the Eagles are simply better and will win this game on Monday Night Football in front of their fans.
Advantage: Eagles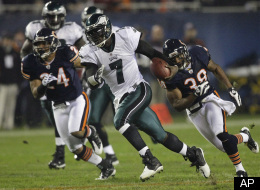 Expect to see a lot of this from Vick if his line cannot step up.

5
Don't forget to vote in the fan polls!
To advertise with The Daily Hat Trick, or to submit a guest column, please contact the editor at
eric@thedailyhattrick.info
.
The Daily Hat Trick is sponsored by
Sports N Stuff
. For great deals on jerseys, shirts, cologne, and other guy stuff, visit
http://www.sportsnstuff.biz/
.
*Source: mcubed.net
**Source: cbssports.com
1) Image from shreveporttimes.com
2) Image from sportsgrindent.com
3) Image from bobrosato.com
4) Image from bleacherreport.com
5) image from the Associated Press via huffingtonpost.com