World Series…NFL…BCS jockeying…this is a great time of year to be a sports fan, unless, course, your favorite sport is basketball. In which case there isn't any.
(Note: Statistics are as of the morning of October 19, 2011.)
Thursday, October 20
MLB
2011 World Series – Game 2
Texas Rangers

at

St. Louis Cardinals
Colby Lewis (14-10, 4.40 ERA) vs Jaime Garcia (13-7, 3.56 ERA)
Jaime Garcia has suffered some hard knocks in the playoffs, with an 0-2 record in 3 starts, a batting average against of nearly .300, and an ERA approaching 6.00. Garcia's last start was not a bad one only giving up 1 earned run in 4.2 innings pitched. Still, it is better when starting pitchers get the win, for a multitude of reasons, and Garcia has either failed to hold the opponent from the lead, been torched, or been unable to deliver enough innings to earn a win in October.
In two postseason starts, Colby Lewis has been okay, much like he has all year. Texas has a collectively strong pitching staff, but Lewis is not particularly exceptional among his fellow starters. He is good enough to get the job done when he does not make mistakes and receives adequate run support. Lewis has one win and one loss in two October starts. One of his starts, against the Rays in the ALDS, was very good (6.0 IP, 1 ER, 6K) while his other start against the Tigers in the ALCS was not very good (5.2 IP, 4 ER, 8 hits). Which Lewis will appear in Game 2? That depends on Colby Lewis.
Advantages – Game: Cardinals, Series: Rangers
Catcher Mike Napoli picked up, in the World Series, where Nelson Cruz left off in the ALCS, tying the score on this two run HR in Game 1. Texas will need more from where this came to avoid an 0-2 hole.

1
Saturday, October 22
NCAA Football
#6

Wisconsin Badgers

at #16

Michigan State Spartans
Coming off of a huge win last week against rival #11 Michigan, the Spartans have vaulted into the top 20. Buoyed by a spectacular 167 yard, 1 touchdown rushing performance by junior running back Edwin Baker (419 yds., 2 TD, 4.8 avg.) and an unlucky break to the Michigan quarterback, the Michigan State was able to gain a big second half lead an pull off the upset.
The Spartans will face the undefeated Wisconsin Badgers, a BCS National Championship hopeful since the beginning of the season. Wisconsin leads the nation in scoring with 50 points per game and allows less than 10 points per game. With all respect due to Michigan, Ohio State, and Notre Dame, the Spartans have faced nothing like the opposition they will face on Saturday. Badgers senior quarterback Russell Wilson (1557 yds., 14 TD 1 INT, 74% comp.) continues to be exceptional. Coming off of a fairly easy win over Indiana, Wisconsin faces a much higher quality defense in Michigan State that only allows 11 points per game.
The Badgers may have to rely more heavily on their 1-2 punch in the backfield from running backs Montee Ball (653 yds., 16 TD, 6.1 avg.) and James White (416 yds., 4 TD, 6.0 avg.). Ball was particularly impressive last week, averaging over 10 yards per carry in a 3 touchdown performance.
Still, Wisconsin has run opponents over all season. Michigan State lost to Notre Dame. Wisconsin is explosive. Michigan State has shown that it can be contained by good opponents, and Wisconsin's defense is among the best.
Advantage: Wisconsin
Wisconsin RB Montee Ball

2

MLB 2011 World Series – Game 3

St. Louis Cardinals

at

Texas Rangers

Pitchers TBD

While the starting pitchers have not yet been named, I said, yesterday, that I expect Texas to win this series in 5 games. That was before the Cards won Game 1. I also think the Cardinals have an edge in Game 2, meaning that, for my prediction to be accurate, Texas would have to overcome what I think is a pitching disadvantage in Game 2, then win games 3, 4, and 5. I think that Texas will simply be too much for St. Louis in Arlington. Should Texas be able to even the series at 1 by winning Game 2, I doubt that this series will return to St. Louis, but that is why the games are played in the real world and not among bloggers and their predictions.

Advantages – Game: Rangers, Series: Rangers Sunday, October 23

San Diego Chargers

(4-1) at

New York Jets

(3-3)


Through Week 6 of the regular season, I am not sure which is more surprising. Prior to 2011, I cannot recall the Chargers, under coach Norv Turner, ever getting a season off to a fast start, yet they have done just that, in spite of the quality of their opponents that they defeated. I, like many, expected the Jets to be a bona fide Super Bowl contender. A .500 record through six games is not found along the typical road traveled by a future conference champion.




This game will be telling for both teams. It will tell us if the Chargers have what it takes to contend with a talented team; the only game the Chargers have played against an opponent with more than one win, this season, is their loss the the New England Patriots in Week 2. This matchup will also tell us if the Jets are capable of beating a quality opponent without the aid of a comedy of errors.

While the Jets' issues on the offensive side of the ball are well documented and very alarming to any fan with Super Bowl ambitions, the Jets have made opponents pay dearly for going to the air. The Jets are 5th in the league against the pass and have forced nine interceptions this season. While the Jets have been vulnerable to the run, coughing up 132 yards per game on the ground, games in this league against talented opponents are won with passing, where the Chargers will be challenged like they have not been before during this season.

Advantage: Jets

Jets QB Mark Sanchez (bottom) has to be getting tired of this.

3
Atlanta Falcons

(3-3) at
Detroit Lions
(5-1)
Slowly, I am getting used to discussing the Lions in "Must See". This is another telling game. For the Falcons, this game will tell us if they are going to be a force to be taken seriously as a contender for the NFC playoffs. For the Lions, this will tell us if they are "for real". After a 5-0 start, the Lions lost their first game last week to the San Francisco 49ers, also 5-1. This game will offer us a more precise measurement of just how good the Lions are this year.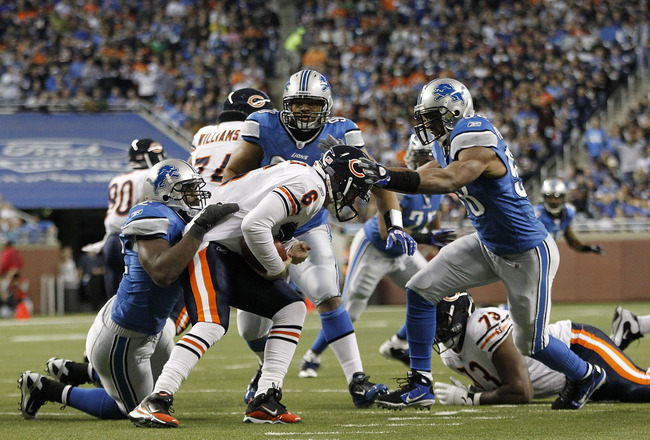 Ndamukong Suh and company have swallowed QBs, whole, this year.

4
MLB
2011 World Series – Game 4
St. Louis Cardinals

at

Texas Rangers
Pitchers TBD
Monday, October 24
MLB
2011 World Series – Game 5 (if necessary)
St. Louis Cardinals

at

Texas Rangers
Pitchers TBD
Wednesday, October 26
MLB
2011 World series – Game 6 (if necessary)
St. Louis Cardinals

at

Texas Rangers
Pitchers TBD
Don't forget to vote in the fan polls!
To advertise with The Daily Hat Trick, or to submit a guest column, please contact the editor at
eric@thedailyhattrick.info
.
The Daily Hat Trick is sponsored by
Sports N Stuff
. For great deals on jerseys, shirts, cologne, and other guy stuff, visit
http://www.sportsnstuff.biz/
.
1) Image from tusconcitizen.com
2) Image from naplesnews.com
3) Image from newyork.cbslocal.com
4) Image from bleacherreport.com