The final weekend of October offers much promise. The World Series appears to be headed for a very exciting conclusion. The NFL reaches its midpoint for most teams. There is even hope that the NBA lockout will be over soon. What a great week to be a sports fan!
Thursday, October 27
MLB
2011 World Series – Game 6
Texas Rangers

at

St. Louis Cardinals
Colby Lewis (14-10, 4.40 ERA) vs Jaime Garcia (13-7, 3.56 ERA)
This game is going to come down to which Colby Lewis we see. For that matter, it depends on which Jaime Garcia we see, too. They can be like a box of chocolates, some nights.
Lewis has had three postseason starts: two good and one bad, though not catastrophic. He was average to above average in the regular season. If we see the "good" Colby Lewis for 6 or more innings, the Rangers, leading the series three games to two, may be popping champagne bottles to celebrate their first ever World Series championship.
Even if we don't see the "good" Colby Lewis, if he does not get rocked and the Rangers have any kind of lead in the late innings, I expect Rangers Manager Ron Washington to throw everything but the kitchen sink at the Cardinals with his bullpen. And I don't expect Washington to suffer from a bad connection.
Jaime Garcia is probably the Cardinals second best starting pitcher behind Chris Carpenter. Garcia has four starts in the postseason, his last being a seven inning, scoreless gem in Game 2 of the World Series. Garcia has pitched one clunker in the playoffs, being taken to school in Game 1 of the National League Championship series against the Milwaukee Brewers, but that performance appears, by all measures, to be an aberration.
In case I was too subtle, I think the fate of these teams in this game will come down to pitching. Only Game 3 of this series has yielded more than 6 total runs, in which Albert Pujols offered us a possible once-in-a-lifetime World Series performance with 3 homeruns and 8 RBIs. I expect more of the norm in this game, not the brilliant exception we saw from Pujols and company last Saturday.
Advantages – Game: Cardinals, Series: Rangers
LaRussa's backup plan for the bullpen phone.

1
Friday, October 28
MLB
2011 World Series – Game 7 (if necessary)
Texas Rangers

at

St. Louis Cardinals
Matt Harrison (14-9, 3.39 ERA) vs TBA
I am going to go out on a limb and assume that, if this series goes to a seventh game (for all of the marbles for the entire season), Tony LaRussa is going to give the ball to his ace, Chris Carpenter (11-9, 3.45 ERA). LaRussa has yet to announce a Game 7 starter. In addition, Carpenter would be pitching with just three days of rest prior to Friday.
Still, what choice does LaRussa have? A partially rested Carpenter should give the Redbirds a better chance of victory than any of the other available pitchers, fully rested or otherwise. Should Carpenter struggle early, LaRussa will likely not hesitate to make a call to the bullpen and replace him with another starter, if necessary. Then again, after Game 5, perhaps LaRussa should hesitate to pick up that phone. He should walk over to the bullpen himself and speak directly into Bullpen Coach Derek Lilliquist's ear.
Rangers Manager Ron Washington has been adamant that he will start Matt Harrison. Like LaRussa, Washington has options should Harrison run into trouble. I have very little doubt that Washington would not hesitate to summon Derek Holland into a Game 7, coming off of the heels of a brilliant 8-1/3 shut out inning performance in Game 4.
I think Washington has more weapons in his back pocket than LaRussa and I think Texas has a stronger batting order. St. Louis has had a magical season, but, if the Cards can force a seventh game, I think the ride ends here.
Advantage: Rangers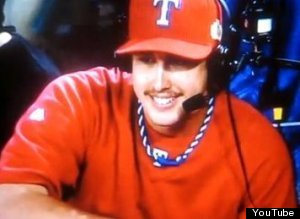 As amusing as Holland's Harry Caray impression was, he may need to ditch the comedy in Game 7.

2
Saturday, October 29
NCAA Football
#9

Oklahoma Sooners

at #8

Kansas State Wildcats
Coming off of a shocking loss to Texas Tech, all but slamming the door on the Sooners' national championship hopes, I expect the Sooners to take out the frustration of the embarrassment on K. State. The Wildcats are unbeaten, and therefore ranked one spot ahead of their in-conference rival Sooners. Oklahoma is looking to return the rightful order to the Big XII.
The Sooners may need to brush up on their defense after surrendering 41 points to a Texas Tech team that had a losing record in conference play prior to last Saturday. However, Landry Jones (2589 yds., 21 TD, 7 INT, 65% comp.) did not forget how to pass and Heisman hopeful Ryan Broyles (67 rec., 899 yds., 9 TD) did not forget how to run routes and catch the ball. K-State, on the other hand, while effective on defense (19.7 PPG against), has only faced one ranked opponent all year. In addition, they have not thrown the ball well. Through 7 games, Wildcats quarterback Chris Klein (934 yds., 8 TD, 3 INT, 59% comp.) has yet to pass the 1,000 passing yard plateau. The Wildcats' ground and pound combination of Klein (670 yds., 14 TD, 4.4 avg.) and John Hubert (637 yds., 2 TD, 5.2 avg.) is simply not going to be enough against the Sooners' offense.
Advantage: Oklahoma

If these Sooners fans look disgusted, imagine how Coach Bob Stoops and his team felt after having their 39-game home winning streak snapped.

3

Sunday, October 30
NFL
New England Patriots

(5-1) at

Pittsburgh Steelers

(5-2)
The Steelers were 2-2 at one point in this season. After ripping off successive wins against Tennessee, Jacksonville, and Arizona, they proved that they are capable of comfortably handling the teams that they are "supposed" to beat. The match with the Patriots will be the toughest competition for the defending AFC champions since their Week 1, 35-7 shellacking at Baltimore.
The Patriots continue to win, but there are some warning sings in Beantown. The Patriots have the best passing attack in the league. It is a good thing because their defense gets torched in the air worse than any other team in the league, coughing up 322 yards per game.
Approaching the midway point in the season, the Patriots are on pace to surrender more than 5,100 yards in the air, which would completely shatter the record of 4,541 yards given up by the Atlanta Falcons in 1995.
*
The '95 Falcons made the playoffs, which the Patriots appear on track to reach in 2011. Those Falcons were cleaned out of the playoffs in their first game, just like the Patriots were last year.
Being unable to stop the pass is not as winning-prohibitive as not being able to stop the run, especially when your quarterback is Tom Brady and he is putting up the monster numbers he is producing. On the road against a team like the Steelers, however, who give up very few yards of any kind, the Patriots will have to step their D up to walk out with a victory.
Advantage: Steelers

Braylon Edwards and other receivers had a field day against the Pats last year. You'd think they would have addressed this glaring weakness in the offseason.

4

Dallas Cowboys

(3-3) at

Philadelphia Eagles

(2-4)
While the loser of this game will fall into a deep hole in the NFC East race, the Eagles are the more desperate of the two. It has been slightly more than two months since Eagles quarterback Vince Young uttered his soon-to-be regretted "dream team" declaration. Now the Eagles are, practically, in a must-win situation, in just the seventh game of the season.
The Cowboys have had their fair share of ups and downs. However, they appeared to turn a corner, in spite of a loss, against the 5-1 Patriots in Week 6. Tom Brady needed to pull a rabbit out of his hat in the final two minutes to leave Dallas with a victory. None of the Cowboys three losses have been by more than four points. Their defense is stingy, with MVP hopeful DeMarcus Ware having a monster season, including 8.0 sacks through six games. In spite of Tony Romo's well publicized struggles, the Cowboys have the 4th best passing offense in the league, with just under 300 yards per game.
The bottom line is that the Cowboys have cause for optimism while the Eagles have cause for panic. Were this game played by robots, I would say the Eagles have a 50/50 shot at winning, maybe even a slight advantage, playing at home. But the game is played by people and the Eagles' people are not clicking.
Advantage: Cowboys
I wonder if Young is ready to eat his words yet.

5
Don't forget to vote in the fan polls!
To advertise with The Daily Hat Trick, or to submit a guest column, please contact the editor at
eric@thedailyhattrick.info
.
The Daily Hat Trick is sponsored by
Sports N Stuff
. For great deals on jerseys, shirts, cologne, and other guy stuff, visit
http://www.sportsnstuff.biz/
.
*Source: 2011 NFL Record and Fact Book
1) Image from thekidswindow.co.uk
2) Image from huffingtonpost.com
3) Image from crimsonandcreammachine.com
4) Image from nwe.scout.com
5) Image from profootballzone.com