With a glimmer of hope in the NBA lockout negotiations, I thought that this would be a great time for a basketball edition of Lies, Damned Lies, and Statistics. As much basketball as you think you know, there are some facts that you may find a little hard to believe.
Kevin Willis is fifth all-time in NBA history in games played.
A one time All-Star (1992) and a career 12 PPG and 8 RPG player, Devo benefited from good health and consistent play over a 22 season career, which ended only four years ago at age 44. Willis did not play fewer than 65 games in a season until 1996, at age 33! All four players ahead of Willis in career games played are in the Basketball Hall of Fame (in order of most to least: Robert Parish, Kareem Abdul-Jabbar, John Stockton, Karl Malone).
Note: Hall of Famer Moses Malone is fifth all-time if including ABA games.
Kevin Willis A.K.A. "Devo"
Shaquille O'Neal is #17 all-time in NBA history for free throws made.
Free throw
percentage
...not so much.
Half of a lot is more than 90% of a few. And Shaq's half has been A LOT!

2
LeBron James is fifth all-time in NBA history for minutes played per game (minimum of 15,000 minutes played).
For all of the criticism The King received for "checking out" during the playoffs in the past, there is no bigger active workhorse in the NBA, averaging over 40 minutes per game.
The King wasn't being emotional, he just needed a REST!

3
Tracy McGrady is fourth all-time in NBA history in points per game in the playoffs (minimum 1,000 points scored).
Given the rapid downward spiral T-Mac experienced during the last three years, it can be easy to overlook how valuable he was. The Raptors, Magic, and Rockets made relatively few advances in the playoffs during McGrady's stays with those franchises. It was not because McGrady failed to pull his weight, averaging 28.5 points per game in the playoffs. Only Michael Jordan, Allen Iverson, and Jerry West have a higher average in the post season.
Playoffs? PLAYOFFS! No I'm not kidding you. PLAYOFFS!

4
Mel Daniels is 6th all-time in ABA/NBA history in rebounds per game (minimum 5,000 total rebounds).
Daniels may be one of the greatest players you have never heard of if you are under the age of 40. That Daniels is not in the Hall of Fame with such a resume is shocking, especially considering that in the nine seasons he played, he averaged 18 points per game in his career to go along with his 15 rebounds per game. All five players ahead of Daniels and the next 11 retired players behind Daniels in this statistical category (Dwight Howard is 12th, all-time) have been inducted into the Basketball Hall of Fame.
Daniels is likely a victim of having played nearly his entire career in the American Basketball Association. The ABA and NBA did not merge until 1976. Except for a token 11 games he played at the very end of his career with the New York Knicks in the 1976-77 season, the seven time ABA All-Star played his entire career in the "other league".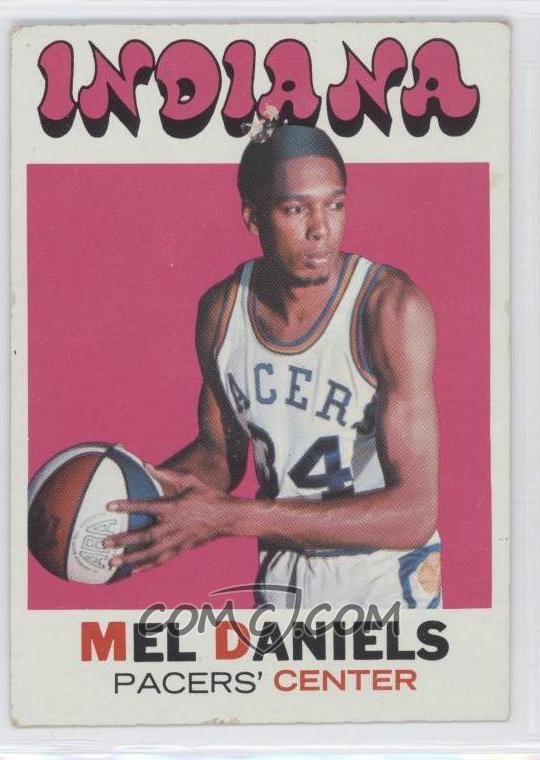 Basketball cards have come a long way! Kind of a shame, this rookie card goes for $6.00; MJ: $600

5
Marcus Camby is 10th all-time in NBA history in blocked shots per game (minimum 1,000 blocked shots).
When you block 2.5 shots per game for your career, you too can play 26 minutes per game and still earn a lucrative salary to play basketball at age 36.
Camby shmamby! I bet he couldn't stop Derrick Rose! Oh...wait....

6
Bill Laimbeer is NOT among the top 50 leaders for most fouls committed in a single season.
For a man whose enforcer reputation preceded himself so much to the degree that a video game called "Bill Laimbeer's Combat Basketball" was released for super Nintendo in the early 1990s, one would think he'd be among the all time leaders in this dubious statistical category. That is not the case.
The most fouls Laimbeer ever committed in a season was 332 in 1981 while playing with the Cleveland Cavaliers (not the "Bad Boys" Pistons). Even more shocking? Former Laimbeer teammates with the Bad Boys, Dennis Rodman, is nowhere to be found on in the top 250!!! Then again, you can't commit fouls when you've been tossed from the game.
I couldn't make this up.

7
Richard "Rip" Hamilton holds the NBA record for playoff minutes played in a season (1079 minutes played in the 2005 playoffs).
Rip has always been a durable player with a high running motor, but I would have expected teammate and point guard Chauncy Billups or other NBA high-energy players like John Stockton or Allen Iverson to hold that record, particularly in the playoffs, before a shooting guard.
Fear the shield!

8
Don't forget to vote in the fan polls!
To advertise with The Daily Hat Trick, or to submit a guest column, please contact the editor at
eric@thedailyhattrick.info
.
The Daily Hat Trick is sponsored by
Sports N Stuff
. For great deals on jerseys, shirts, cologne, and other guy stuff, visit
http://www.sportsnstuff.biz/
.
Source of statistics: basketball-reference.com
1) Image from www.giantbomb.com
2) Image from www.itssports.com
3) Image from www.need4sheed.com
4) Image from www.wallcoo.net
5) Image from www.checkoutmycards.com
6) Image from www.zimbio.com
7) Image from www.superfamicom.org
8) Image from http://joebryant.tumblr.com