Thursday, September 22
MLB
Tampa Bay Rays

at

New York Yankees
Wade Davis (10-9, 4.41 ERA) - Rays vs. Ivan Nova (15-4, 3.81 ERA) - Yankees
The Rays have roared back from the get and have the Boston Red Sox on their heels in the American League Wild Card race. They cleared a major hurdle by taking 3 of 4 games at Fenway Park last weekend. Their next challenge is the Bronx Bombers.
The Rays, facing the Yankees 4 times in their final 7 games, still have a remote chance of capturing the American League East crown. The Wild Card, however, is a prize within their sights. It will not be easy, though.
Yankees starter Ivan Nova has won his last 10 consecutive decisions and has not received a loss since June 3rd, three and a half months ago. Curtis Granderson (.268, 41 HR, 115 RBI) eclipsed the 40 homerun mark within the last week. Robinson Cano (.305, 26 HR, 113 RBI) continues to appear at the plate with maximum efficiency, reaching base at least once in 7 of his last 8 games, bringing his average for the month of September back up to .300 with a 2 for 3 performance against the Minnesota Twins on Monday.
Rays third baseman Evan Longoria (.244, 28 HR, 92 RBI) may have finally broken out of what appears to have been a season long slump, batting over .300 in the month of September, the month of this season in which he has done so. Hit bat, and others, will be needed to support Wade Davis against Nova. All of Davis' wins, since the All-Star break, have come when he has struck out five or more batters and he has no losses when he has eclipsed the five strikeout plateau.
Advantages – Game: Yankees Series: split
Joe Maddon will pull no punches to catch the Red Sox.

1
Friday, September 23
MLB
Boston Red Sox

at

New York Yankees
Jon Lester (15-8, 3.15 ERA) – Red Sox vs. Freddy Garcia (11-8, 3.77 ERA) – Yankees
There is no other way to put it: the Red Sox are in panic mode. Losers of 14 games in the month of September as of Monday morning, the BoSox's lead on the American League Wild Card has been shaved down to 2 games. This is a club that, at one point, was in a position to run away from the New York Yankees for the A.L. East. Now the Sox are simply trying to survive into October.
Part of the Red Sox woes have come from injuries, the rest from shoddy pitching. Batting has never been an issue, at the Sox are at the top or near the top of every significant team batting statistical ranking in Major League Baseball. Fortunately for Beantown, Jon Lester has not been a part of the Red Sox spotty pitching performances this season. The Red Sox could possibly revive their razor thin chances of winning the division with a three game sweep of the Yankees. Minimally, they need to take 2 of 3 or the nightmare ending to this season, dreaded by every Red Sox fan, may become a reality.
Advantages – Game: Red Sox, Series: Yankees
Jon Lester is one of the few Red Sox starting pitchers worth cheering, of late.

2
Saturday, September 24
NCAA Football
(2)
LSU Tigers
(3-0, 1-0 SEC) at (16)
West Virginia Mountaineers
(3-0, 0-0 Big East)
The LSU Tigers have one of, if not the most smothering defense in the nation. After squeezing SEC rival Mississippi State, holding them to six points in Starkville, Mississippi the Tigers will take their show on the road, for the third time in four weeks, traveling to #18 West Virginia.
LSU senior quarterback Jarrett Lee has completed 68% of his passes on the season, providing accuracy that puts tremendous pressure on opposing defenses to bottle up a potent Tigers running game. LSU has employed a running back by committee, a committee of beasts. Spencer Ware, who ran for over 100 yards against MSU last week, is the leading rusher on an LSU team that flattens its opponents for 166 yards per game. Ware's primary counterpart in the LSU backfield, Michael Ford, is averaging 5.5 yards per carry this season.
West Virginia has aired it out against its opponents this year, as junior quarterback Geno Smith has already eclipsed the 1,000 passing yards milestone this season. The Mountaineers, however, have only faced one BCS conference opponent this season, beating Maryland (ACC) last week, 37-31. Smith's favorite target has been wide receiver Tavon Austin, with 20 catches this season. Still, Austin has not been blanketed by a secondary of the likes of LSU.
Advantage: LSU
Just call Jarrett Lee "Butter" because he's been on a roll.

3
Sunday, September 25
NFL
Green Bay Packers
(2-0) at
Chicago Bears
(1-1)
The Packers have had to fight tough battles against NFC South opponents New Orleans and Carolina to earn their 2-0 start. They will continue the longest standing rivalry in NFL history when they take on the NFC North division rival Chicago Bears at Soldier Field on Sunday.
The Bears are somewhat under the gun. They can ill-afford to fall to 1-2 and be two games back of the Packers. In their loss to the Saints, a number of glaring weaknesses were exposed in their passing game. The Bears appeared to have picked up where they left off last year in failing to provide adequate protection for quarterback Jay Cutler. Cutler was sacked six times by a Saints defense that, itself, had concerns about its front seven heading into this season.
In addition, the Bears have had problems with injuries to their receiving corps and the receivers who have played have had difficulty getting open. Receiver Roy Williams missed last week's game in New Orleans. Johnny Knox is the team's leading wide receiver in receptions with five, only a third of the total of running back Matt Forte. Forte has been, perhaps, the Bears only bright spot on offense, with 324 yards from scrimmage this season.
The Packers have had everything but the kitchen sink thrown at them. The Pack is dead last in the NFL in pass defense, surrendering a total of 800 yards in the air to the Saints' Drew Brees and Panthers rookie QB Cam Newton. This is a defense, in spite of missing several players for the season with injuries, which coughed up less than half of that total per game on average last year. For a team trying to reestablish its defensive identity, the Bears, their offensive line, and their wide receivers may be just what the doctor ordered.
Advantage: Packers
He's used to it.

4
Monday, September 26
NFL
Washington Redskins
(2-0) at
Dallas Cowboys
(1-1)
For the first time in a year, this traditionally intense rivalry will have meaning. When the Cowboys and Redskins met for the second time in 2010, both teams were long since eliminated from the playoffs, with bitterly disappointing seasons riddled with internal strife. The Cowboys fired Head coach Wade Phillips last season and the Redskins had personnel issues, particularly those involving quarterback Donovan McNabb, which threatened to tear their locker room in half.
This season, the Cowboys suffered a very narrow loss to the New York Jets in MetLife Stadium on the 10th anniversary of 9/11 and came from behind to beat the San Francisco 49ers on the road in overtime with a heroic performance from quarterback Tony Romo. Romo was suffering from a cracked rib and a punctured lung during the second half of last week's game, let led the Cowboys from behind to win.
Rex Grossman has been a pillar of stability in Washington through the first two weeks of the season. Grossman's quarterback rating is over 90, through two weeks, with 4 touchdown passes, only 2 interceptions and averaging just under 300 total passing yards per game. I have no idea what gift of Grossman's suddenly decided to kick in after the age of 30. Perhaps Redskins Head Coach Mike Shanahan, whom I have criticized heavily for his management of the Redskins since his arrival before the 2010 season, really does know what he is doing. This is why (two time Super Bowl winning) coaches coach and writers write.
This game is going to come down, in my opinion, to whether or not Romo can play this week. My thought is that if he played through the end of the 49ers game, he should be able to start 8 days later. If he plays, I think his presence in concert with the Cowboys Stadium crowd will be too much.
Advantage: Cowboys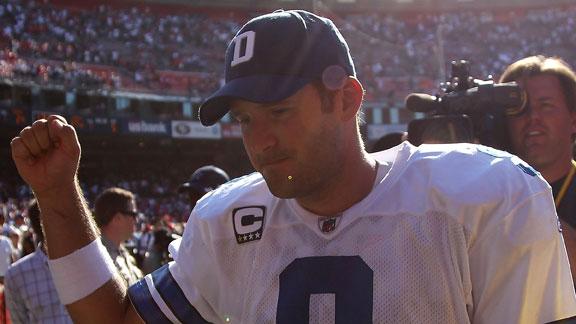 I have stated, more than once, that the Cowboys franchise is among my "most hated", but coming back from 10 points down with a punctured lung and a broken rib deserves recognition and respect.

5
Tuesday, September 27
Philadelphia Phillies

at

Atlanta Braves
Cliff Lee (16-7, 2.38 ERA) – Phillies vs. Derek Lowe (9-15, 4.94 ERA) – Braves
Braves manager Fredi Gonzalez is in an unenviable position. Just a month ago, his team appeared to have a very comfortable lead in the National League Wild Card race. In the month of September, the St. Louis Cardinals, as if by magic, suddenly solved their season long pitching woes, won 10 of their last 12 (as of Tuesday morning), and are on the heels of the Braves, just 2.5 games back in the Wild Card race.
The Braves, losers of 7 of their last 10 (as of Tuesday morning) are in a free fall, in spite of their last 12 games prior to this game being against sub-.500 opponents. Tonight is the first of a three game series against the Philadelphia Phillies, who will finish the regular season with the best record in the National League.
Gonzalez is in a tough spot because it would be Derek Lowe's turn to start. Yet the Braves will probably be in dire need of a win for the rest of the regular season. Prior to last night's start against the last place Florida Marlins, Lowe had recorded three consecutive losses, with his last win coming in the month of August. Gonzalez has the choice of issuing a vote of no-confidence to one of his top three starting pitchers just before the post season, or sticking with his man and risking missing the postseason altogether.
The Phillies have not announced a starter for this game, but it would be Cliff Lee's turn in the rotation. The Phillies, however, may elect to rest the former Cy Young winner. In either instance, the Braves will be at home and have everything to play for. The Phillies will have nothing to play for and will be preparing for the postseason, not to necessarily win this three game series.
Advantages – Game: Braves, Series: Braves
Wednesday, September 28
New York Yankees

at

Tampa Bay Rays
Bartolo Colon (8-9, 3.81 ERA) - Yankees vs. David Price (12-12, 3.36 ERA) – Rays
On the final day of the regular season, this game could determine whether or not the Rays play on or go home. I expect the Yankees to have wrapped up their division by this time. It would be Colon's turn to pitch in this game. Should the Yankees have wrapped up the division and the best record in the American League by game number 162, I would expect Colon to rest. The Rays are also at home with, potentially, their entire season on the line. The Yankees are the class of the American League, but the Rays will have hellfire under their backsides.
Advantages – Game: Rays, Series: Rays
Don't forget to vote in the fan polls!
To advertise with The Daily Hat Trick, or to submit a guest column, please contact the editor at
eric@thedailyhattrick.info
.
The Daily Hat Trick is sponsored by
Sports N Stuff
. For great deals on jerseys, shirts, cologne, and other guy stuff, visit
http://www.sportsnstuff.biz/
.
1) Image from flickr.com
2) Image from boston.com
3) Image from shreveporttimes.com
4) Image from zimbio.com
5) Image from espn.com