The Major League Baseball is winding into the home stretch. The qualifiers in the pennant races have largely been determined. Most teams have played close to 120 games. The regular season is three quarters over.
Typically, by this time of the year, of Major League Baseball's six divisions, two divisions have a leader running away with the lead, two divisions have a leader being trailed by one team with a chance at catching the leader if the runner up gets hot (or the leader collapses like the 2007 and 2008 New York Mets), and two divisions are in a dogfight between two or more teams, with the eventual runner up likely not in the running for the Wild Card.
NOT THE SAME OLD STORY
This is an atypical year. The Philadelphia Phillies are running away with the National League East and the Atlanta Braves are likely stuck in second place. The Braves are also comfortably ahead in the race for the second best record in the National League, and hence all but running away with the National League Wild Card. The American League East will all but certainly produce the first and second best regular season records (and the Wild Card) in its league, but whether the Boston Red Sox or New York Yankees clinch the top seed in the American League Playoffs may not be determined until the final day of the regular season or in a one game playoff.
SCRAMBLE TO THE FINISH
The remaining four divisions all have leaders with a lead of no more than four games. None of these divisions are likely to produce a Wild Card team because of the dominance of the two leaders of the East divisions in both leagues. The stage is set to have four divisions in which, in each division, one team will clinch the opportunity to play in October and at least one other team will be vanquished in the final week, possibly the final day, possibly after the final day of the regular season. Other than the Philadelphia Phillies, there are no teams with any degree of predictability on their exact positioning in baseball's postseason.
SURVIVAL
MLB fans are in for a treat because every game, going forward, involving the Detroit Tigers, Cleveland Indians, Chicago White Sox, Texas Rangers, Los Angeles Angels, Milwaukee Brewers, St. Louis Cardinals, Arizona Diamondbacks, or the defending World Series champion San Francisco Giants will have a significant impact on whether or not these teams survive to make the postseason. None of these teams, likely, will be able to fall back on the consolation of a Wild Card should they not win their respective divisions. There is
a lot
of meaningful baseball to be played in the next seven weeks.
At the one quarter point, I offered a brief synopsis on each of the 30 MLB teams. Today, I will do the same. My comments at the 40 game point will remain in
black,
my All-Star break remarks will be in
blue,
and my 120 game point comments will be in
green
. All won-loss records and division ranks are as of the morning of Friday, August 11, 2011.
AMERICAN LEAGUE
AL East
Tampa Bay Rays

(25-19)
– After losing Carl Crawford, Carlos Pena, and Matt Garza to free agency, they did not "rebuild". They "reloaded".
(49-39, 3rd place) They're still in a three way dogfight and probably will be until September. If Evan Longoria can regain more of his pre-foot-injury form, perhaps they can gain an inch or two in this race of inches. If Matt Joyce can keep stepping his game up, Longoria may be able to afford to pace himself instead of press himself.
(63-54, 3rd place) The Rays fought the good fight, but lost too many players in the past offseason to keep pace with the Yankees and Red Sox. The Rays may play a "spoiler" role, though, as they are a good baseball team whose record would have them in first or second place in three of MLB's five other divisions.
New York Yankees

(23-19)
– First rate payroll…second place record…third rate starting pitcher consistency.
(51-35, 2nd place) They are still in second place as of Friday morning, but that could have changed multiple times over the weekend. Now that Derek Jeter has recorded his 3,000th hit, plus several more, the pressure is back on the Yankees, as a team, to regain first place footing in the division race.
(71-45, 2nd place) The Yankees could win 100 games and have to go on the road in the American League playoffs as a Wild Card.
Boston Red Sox

(23-20)
– I suppose they decided it was unfair that they were anointed AL East champs before the season started and dug themselves into an 0-6 hole to give the team a real challenge. They have won 6 straight. I would say they are up to the challenge.
(52-35, 1st place) The Red Sox appear to be the strongest of the three team battle royale of the Yankees, Rays, and themselves. Still, the season is L..O..N..G and the recent injuries to Jon Lester and Clay Buchholz could be a crippling blow to the starting pitching rotation, in a race with little margin for error or injuries. That said, at the rate of which the Sox are smacking the ball all over every park everywhere, the muscular injuries to Lester and Buchholz may be minor speed bumps.
(72-44, 1st place) - Imagine if they had started the season 6-0 instead of 0-6.
Toronto Blue Jays

(22-21)
– Once again, they aren't that bad. They aren't that good either. How much longer before Triple Crown candidate Jose Bautista asks for a trade?
(42-47, 4th place) Stick a fork in 'em. They're done.
(59-58, 4th place) - There is a lot of fight in this dog and, "Wait until next year," is more than just an empty consolation phrase for the Jays and their fans. Then again, they made need to consult with Bill Belichick, coach of the NFL's New England Patriots, about a new method to spy on opposing teams to steal their pitching signals.
Baltimore Orioles

(19-23)
– They got off to a great start. They won't suck as much as they usually have and that is a moral victory for manager Buck Showalter in 2011.
(36-49, 5th place) The Orioles are the most competitive cellar dweller in the majors. It is of little consolation as they are still in last place.
(45-70, 5th place) - This team headed in the right direction after a managerial change last year. It has steadily headed in the wrong direction since the beginning of this year.
Red Sox fans may want to party like it's 2004. They are on a collision course with the Yankees for the American League Championship series, if present trends continue. The Sox have beaten the Yankees 9 out of 11 times this season.

2
AL Central
Cleveland Indians

(26-15)
– Best record in the majors...biggest surprise in the majors... among the lowest attendance in the majors.
(47-39, 1st place) The Tribe is still in first place in the division, but the cream of the AL East has risen to the top of the league. Asdrubal Cabrera is making his case for AL MVP. Attendance: still in the crapper, selling less than half of the seats in Progressive Field this season.
(58-57, 2nd place) - The time to go in for the kill is when an opponent is down. The Indians awoke a bunch of sleeping Tigers.
Detroit Tigers
(22-21)
– If Jim Leyland stops smoking, will Miguel Cabrera stop drinking? Good starting pitchers…underachieving bats…undesirable bullpen.
(47-42, 2nd place) Justin Verlander is an inning eating, batter killing monster, a monster helping to keep the Tigers within striking distance of the AL Central lead.
(62-55, 1st place) Detroit has had the most talent in this division for several years. They have a chance to win the division for the first time in five years.
Kansas City Royals

(21-22)
– That Kansas City has lost 7 of their last 10 and is just one game below .500 is cause for celebration, unless you're Vin Mazzaro.
(36-52, 5th place) ♫ Back to life! Back to re-al-i-ty! ♪♪
(49-69, 5th place) - Same old Royals...same old sorry ass Royals!
Chicago White Sox

(20-25)
– I don't know what is more disappointing, that the White Sox are playing so badly or that Ozzie Guillen hasn't give us a vault of soundbites expressing that disappointment.
(43-46, 3rd place)
At nearly a million dollars per home run, do you think they over-reached for Adam Dunn? This team's execution is consistently inconsistent, but if manager Ozzie Guillen can help they guys bring everything together and go on a second half run, the Sox could make the division race very interesting.
(58-59, 3rd place) - This team has never strung together an impressive run this year. Manager Ozzie Guillen would probably be the first to admit that this team, with all of its talent in the lineup, has underachieved for most of this year. Yet the White Sox still have a fighting chance to win the American League Central division. Adam Dunn (.161, 11 HR, 40 RBI) has yet to show a pulse this year. But conventional wisdom says that even Dunn, a reliable power hitter throughout his career before this season, has got to snap out of it at some point, right? If he does, it could push the White Sox over the top.
Minnesota Twins

(15-27)
– Minnesota will not be successfully defending its back to back American League Central Division titles.
(39-47, 4th place) The Twins may have come back from the dead. Their 15-2 run (before their 6 game losing streak, followed by a 7-2 run) has breathed life into a team that was circling the drain in May.
(52-65, 4th place) - The Twins showed a lot of character after a catastrophic start. They probably cannot close the gap in the division, but they probably will not finish last, either. The Twins have a shot at third place if they can snap out of their recent slump (lost 8 of last 10).

There is only one direction for Dunn's season to go: up.

3
AL West
Texas Rangers

(23-21)
– Making an impressive push to repeat as division champs, the first step to repeating as American League champions.
(48-41, 1st place)
Josh Hamilton is back and the Rangers are still in first, for now (as of Friday morning).
(66-52, 1st place) -
The road to repeating as American League champions will have to start with surviving the American League West division race.
Oakland Athletics

(22-22)
– They have a shot at a return to the playoffs this year. They'd have a better shot if they swung the bats like bats and not garden hoses.
(39-50, 4th place)
See my remarks on the Kansas City Royals.
(53-64, 3rd place) - See my remarks on the Kansas City Royals
Los Angeles Angels
(22-23)
– The Angels no longer have the vice grip on the division that they used to, but that doesn't mean they can't return to the top. Not having Kendrys Morales at all, this season, is going to make that task more difficult, though.
(47-42, 2nd place) The Halos are red hot and breathing fire on the backs of the first place Rangers. If they can get a power surge in their lineup from the likes of Torii Hunter, there could be yet another epic division battle shaping up in the majors this season.
(64-54, 2nd place) - We're the Los Angeles Angels and we've come to take our division back!
Seattle Mariners

(19-24)
– No wonder Ken Griffey, Jr. fell asleep on this team….
(43-45, 3rd place)
Like the Twins, this team has suddenly come to life. If the M's could just start hitting the ball...at all...they could be a legitimate threat to reach the playoffs for the first time since their record breaking 2001 season. If hitting great Ichiro Suzuki could fully regain his form, perhaps it could be the push that the Mariners need to get ahead, as they are at or near dead last in nearly every major team hitting category.
(50-66, 4th place) - Seattle has a very good pitching staff that can keep any game close, including one of the best pitchers in the league in Felix Hernandez (10-10, 3.31 ERA, 174 K). The Mariners' bats could convince Don Larsen that he could come out of retirement, dead last or near last in nearly every team batting category.
NATIONAL LEAGUE
NL East
Philadelphia Phillies

(26-17)
– I would say, "Why not just stop the season and hand them the National League pennant now?" but I said that last year and, well, that's why they PLAY the GAMES!
(55-33, 1st place, best record in MLB) No team is bulletproof, but the Phillies could fool quite a few people into thinking so.
(77-40, 1st place) - The NL East race is going, going...GONE to the Phillies!
Florida Marlins

(24-18)
– Josh Johnson would win the Cy Young if the season were only 40 games long. The Marlins have an excellent opportunity to return to the playoffs for the first time since winning the World Series in 2003.
(40-48, 5th place) Losing 17 of 18 and the manager, Edwin Rodriguez, would have been enough adversity to sink the 1927 Yankees like the Titanic.
(55-62, 5th place) - They are going to have a tough time filling up their expensive, state-of-the-art new stadium if they keep up this level of play. They cannot give tickets away, as it is.
Atlanta Braves

(25-21)
– The tomahawk chops on! Bobby Cox may be retired, but the Braves remain competitive. Jair Jurrjens could challenge for the National League Cy Young.
(53-36, 2nd place) The Braves are hot on the Phillies' trail. Jair Jurrjens is one of two front runners for the Cy Young (Roy Halladay, Phillies) and is a big cog in the Braves pitching machine.
(69-49, 2nd place) - They will probably finish with the second best record in the league and not even sniff first place in their own division. Of course, everyone is 0-0 in the playoffs.
New York Mets
(21-22)
– The Mets are a hot mess, but their record is surprisingly not vomit-inducing…yet.
(45-43, 3rd place)
The Mets got a little hot, but cooled off again. A 2011 playoff run in a major longshot, but they have a change to have a respectable, winning third place record, giving Jose Reyes a reason to think about remaining in New York after the season.
(58-59, 3rd place) - I give the players credit for not throwing in the towel after management threw in the towel, understandably so, with the Carlos Beltran trade.
Washington Nationals

(20-23)
– The journey of a thousand miles starts with a single step. This perennial laughing stock may be in the cellar, but they a re much more competitive than in years past. When cannon-armed starting pitcher Stephen Strasburg comes back next year, watch out!
(45-44, 4th place) In spite of the sudden resignation of manager Jim Riggleman, the Nats are playing very good baseball and have a real change to earn the first winning season for the team in Washington, D.C.
(56-61, 4th place) - Stephen Strasburg is expected to return in September and Bryce Harper is likely to make his MLB debut in 2012. I am really looking forward to watching this team next year.
NL Central
St. Louis Cardinals

(26-19)
– If you'd have told me 35 year old Lance Berkman would be in the running for the National League Triple Crown before the season started, I'd be looking for the Candid Camera.
(47-42, 1st place - tie) It's a good thing Albert Pujols recovered from his wrist injury ahead of schedule, because the division race is so tight that the top four teams in this division are already at the "every game counts" point of the season.
(63-55, 2nd place) - I think they're missing starting pitcher Adam Wainwright like the desert misses the rain. I have read speculation that Wainwright could possibly return for the September stretch, but it appears to be a longshot.
Cincinnati Reds

(25-19)
– The Reds key batters are as strong as last year, setting the defending National League Central Division champs up for a dogfight with the Cardinals this season.
(44-45, 4th place) Pitching trumps hitting. The pitching talent is there, but it isn't translating on to the field. It had better do so soon, for the Reds' sake.
(57-61, 3rd place - tie) - I wouldn't trust the Reds pitching staff to make a sales pitch for a life preserver to a man overboard, let alone a pitch to an opposing batter.
Milwaukee Brewers

(21-23)
– The best position players…not some of the best pitchers. Enjoy Prince Fielder while you have him because it wouldn't surprise me to see him join fellow big bellied Brewer turned Yankee C.C. Sabathia in pinstripes after this season.
(47-42, 1st place - tie) Prince is on a mission to go out with a bang. The pitching staff has not been spectacular, but they have put up a lot of innings of work and kept games close enough to give the Brew Crew's bats a chance to carry the team every night.
(67-51, 1st place) - This is a prime and example of how the Major League Baseball regular season is a marathon and not a sprint. Two months into the season, the Brewers did not stand out, good or bad. Now, barring major injuries or a collapse, they are probably one more series win over the Cardinals from putting the division out of their reach.
Pittsburgh Pirates

(20-23)
– Gimme a light! "Suck Lite"! Just because they've improved doesn't mean they're relevant.
(45-42, 3rd place) This is more than three sentences, but is worth stating. If you are reading this and have been in a coma since April, you may want to have someone in the room with you. You may faint from shock and need someone to pick you up off of the floor after reading the following. Halfway through the season, the Pittsburgh Pirates are one game out of first place.
That is not a typographic error. This is not a late April Fools joke. There is no candid camera. At the weekend before the All Star break, THE PITTSBURGH PIRATES ARE ONE GAME OUT OF FIRST PLACE. Last playoff appearance: 1992. There is an entire generation on Pittsburgh residents who have never seen their baseball team in the postseason and, frankly, there has never been much hope after the All Star break since '92. Are times a-changin'?
(56-60, 3rd place - tie) - The Pirates were in first place until last month. This team's future is bright. I hope they can, at least, give the fans their first winning season in 19 years.
Chicago Cubs

(19-23)
– 1908 was a long time ago. Cubs fans will continue to think that in the coming offseason.
(36-53, 5th place) They could save payroll money on pitchers and just set the ball on a tee for their opponents. Same difference....
(51-67, 5th place) - When I think of a Cubs fan, I picture an abused, Oliver Twist-like child holding his bowl and saying, "Please sir! May I have more?"
Houston Astros

(15-29)
– Owner Drayton McLane could have sold the club after its World Series appearance in 2005 and made a lot more money if he planned on doing nothing afterwards.
(30-59, 6th place) The Astros are my favorite MLB team. I sure can pick 'em, eh?
(38-80, 6th place) - We'll always have (the pennant winning year of) 2005.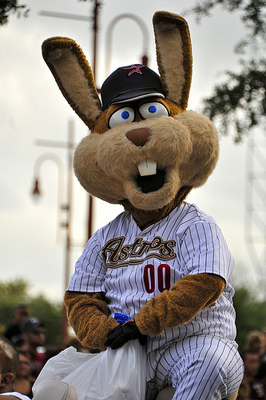 At this point, would it kill Astros manager Brad Mills to put Junction Jack in the lineup?

4
NL West
San Francisco Giants

(24-19)
– Lights out pitching can always compensate for anemic batting. The Giants are making a solid bid for a second straight National League pennant.
(50-39, 1st place) This team is going to continue to look over its shoulder in the NL Central race if its bats do not pick up soon.
(64-54, 2nd place) - The Giants lost what, earlier in the season, appeared to be a vice grip on the National League West, especially after the Colorado Rockies began to fall off. With an anemic batting order, the loss of Buster Posey for the season, and now an injury to outfielder Carlos Beltran (15 day DL), whose acquisition was intended to give the Giants' offense a spark, the prospects for the Giants to repeat as World Series champions look very cloudy.
Colorado Rockies

(23-19)
– Every year this team looks solid. Last year, they sputtered late. Can they make it back to the playoffs after a 2010 absence?
(41-47, 3rd place)
They are fading fast. It is one thing to give up a lot of runs in the most hitter-friendly park in the majors. It is another when your bullpen gets called into action too soon, too often. The Rockies are guilty of both.
(55-64, 3rd place) - The trade of ace pitcher Ubaldo Jimenez, who still had years remaining on a relatively inexpensive contract, for the value, is the most puzzling trade I have seen in Major League Baseball in years.
Arizona Diamondbacks

(20-23
) – Yawn....
(48-41, 2nd place) Open mouth...insert foot.
(63-53, 1st place) - Steady, solid pitching and a batting order steered by All-Star Justin Upton has allowed the Snakes to make a steady climb from a mediocre start in the spring to first place as we approach the fall.
Los Angeles Dodgers

(20-25)
– Divorce really hurts everyone: the players who don't know if their paychecks will clear or bounce, the Dodgers fans of Los Angeles, the Giants fan who got the crap beaten out of himself by frustrated Dodgers fans, and said Dodgers fans whom the LAPD identified and will soon be spending quality time behind bars.
(38-51, 5th place) At least Frank McCourt hasn't consulted O.J.Simpson Divorce Settlement Solutions.
(52-64, 4th place) - On second thought, the check to O.J. probably would have bounced. This is just sad. Growing up, the Dodgers were my favorite team and they are still a sentimental favorite of mine. It pains me, as a baseball fan, to see this iconic franchise in the doldrums.
San Diego Padres

(19-25
)
– Last year the Padres made a strong run on a skeleton payroll to come within one game of reaching the playoffs. ♫ Back to life! Back to re-al-i-ty! ♪♪
(40-49, 4th place) Good news: The Padres pay their bills. Bad news: They are getting exactly what they are paying for this year.
(53-66, 5th place) - You get what you pay for. The Padres have one of the lowest payrolls in baseball. What they have got is a team in the cellar.
Beltran needs to come back and start bashing the ball soon or the Giants may find themselves "snakebitten" in the NL West.

5
Don't forget to vote in the fan polls!
to advertise with The Daily Hat Trick, or to submit a guest column, please contact the editor at
eric@thedailyhattrick.info
.
1) Image from sportslogos.net; the Major League Baseball logo is a trademark of Major League Baseball.
2) Image from nytimes.com
3) Image from wegotthiscovered.com
4) Image from sportswithballsshow.com
5) Image from hardballtalk.nbcsports.com