Today The Daily Hat Trick would like to introduce the first of what I hope are many guest columns submitted for posting. Tim Handorf of
Bestcollegesonline.net
was kind enough to share an article about some college coaches on the hot seat this season. One of the more fun and intriguing aspects of college football is the never ending rumor mill, so why not get it cranking in August! Follow the hyperlink to see the
original article
.
TIM HANDORF, LADIES AND GENTLEMEN....
College football fans have an insatiable thirst for information year-round, whether you're rooting on campus or a student from one of many online colleges — it's how we compensate for a season that lasts just four months. The morning after the national championship game, experts and analysts publish their projections for next season's top 25, and almost as quickly, speculation ensues about which coaches will be on the hot seat. This time last year, the names bandied about included Rich Rodriguez, Dan Hawkins, Ralph Friedgen and Tim Brewster, all of whom lost their jobs during or after the 2010 season. So who will it be in 2011? Here are a few guys who are already sweating it out.
1.Mark Richt — Georgia
: Just three years ago, Richt was considered one of the SEC's elite head coaches. The Dawgs finished the 2007 season ranked second in the AP poll and third in the coaches' poll, and headed into the 2008 season ranked first in both polls. Led by the Matt Stafford, Knowshon Moreno and AJ Green, the Dawgs were poised to win the SEC and national championships, but settled on a 10-win season and a Capital One Bowl victory. In the two seasons since, Richt has overseen a rapid decline that culminated with a loss to C-USA's UCF in the Liberty Bowl and record of 6-7 in 2010. With the decline of rival Florida, the overall weakening of the SEC East, and Georgia's inability to win a national championship like Florida, LSU, Alabama and Auburn, Georgia supporters will be demanding nothing short of a 2011 season in contention.

Will Richt kiss UGA goodbye after this year?

1

2.Rick Neuheisel — UCLA
: Thanks to the NCAA, USC's "football monopoly" in LA and the Pac-10 has ended. But UCLA has failed to capitalize on the decline of their arch rival, posting a 4-8 record in 2010. Neuheisel's third season at the helm ended with the same record as his first, and the lack of progress has resulted in dwindling support. Most discouraging has been the futility of the Bruins' offense, which finished the season ranked 104th in the nation in scoring. The firing of defensive coordinator Chuck Bullough and the possible departure of offensive coordinator Norm Chow, previously considered one of the best in the business, indicates that Neuheisel is well-aware that changes must be made — or else.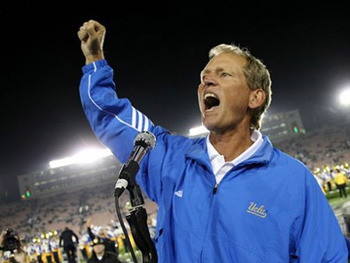 Maybe Neuheisel has nine lives?

2
3.Jeff Tedford
— Cal
: Since taking over the previously 1-10 Golden Bears in 2002, Tedford has been responsible for the program's most successful period since Pappy Waldorf roamed the sideline during the 1940s and 1950s. He has won five of seven bowl games and posted a 72-42 overall record, surpassing the venerable Woodruff as Cal's all-time winningest coach. The most glaring blemish on his resume, however, has been his inability to reach the Rose Bowl. His teams have become known for their inconsistent play, causing his critics to question if Cal has reached its pinnacle of success under his leadership. The recent 5-7 finish, Tedford's first losing season at Cal, has made many Golden Bears fans restless.
4.Mike Locksley — New Mexico
: Locksley's 2-22 record at New Mexico speaks for itself. His predecessor Rocky Long only once lost more than seven games in a season — his last season — and won nine in his second to last season. In addition to perpetually losing, a couple of non-gameday issues have called Locksley's leadership skills into question. During his first year with the program, he was the subject of an age and sex discrimination complaint by his former administrative assistant. Months later, he was suspended without pay for 10 days for getting into a physical altercation with an assistant coach. Only a hefty buyout has come between Locksley and the pink slip Lobos fans wish he'd receive.
5.Paul Wulff — Washington State
: Wulff appeared on similar lists last year after posting a 3-22 record in his first two seasons at Washington State. Fortunately for Wulff, he still has a job following another abysmal double-digit loss season. His supporters — there have to be a few out there given that he hasn't been fired — can boast the late-season win over Oregon State and the narrow losses to Cal and rival Washington as evidence that things are going in the right direction. If he wishes to survive yet another year, the Cougars will need to significantly improve upon their national rankings of 106th in scoring and 110th in points allowed. Certainly not the kind of well-balanced team Wulff envisioned.
6.Greg Schiano — Rutgers
: Schiano, like Tedford, is a victim of the expectations he established by transforming a lowly program into a perennial winner. After tallying an underwhelming 12-34 record during his first four seasons at Rutgers, he guided the Scarlet Knights to five consecutive bowl games, four of which they won. In 2006, the high point of the run, they reached the top 25 and won 10 games for the first time in 30 years, ranking sixth in the nation after a 9-0 start. But his loyalty to the program, evidenced by his refusal to strike while the iron was hot when big programs came calling, may prove to be his downfall. Scarlet Knights fans want Big East titles, something Schiano has yet to produce. The program's regression to 4-8 — 1-6 in the beleaguered Big East — in 2010 is a significant setback in its goal to become a consistent conference power, and the coach whose motto is "keep choppin'" could soon find himself on the choppin' block.
Farewll pose?

3
7.Dennis Erickson — Arizona State
: Even though Arizona State suffered its first back-to-back losing seasons in several decades after the 2009 season, Erickson managed to keep his job. The result was a two game improvement by the Sun Devils in 2010 and a handful of narrow losses to respectable programs, including top-10 finishers Wisconsin and Stanford. The season ended on a sour note, however, as they lost in double-overtime to arch rival Arizona after a blocked extra point attempt. Erickson will be expected to make further progress in 2011. If he can turn those narrow losses into narrow wins, then he'll experience a season much like his first in the desert, and more importantly, a new lease on life.
8.Dabo Swinney — Clemson
: A losing season and two consecutive blowout losses to arch rival South Carolina has landed Dabo in hot water. For perspective, his much-maligned predecessor Tommy Bowden never coached a losing season at Clemson, but was still fired after failing to win a conference title. Clemson is widely regarded as a sleeping giant and program capable of much more than it has achieved over the past couple of decades. It's one thing for the fan base to tolerate underachieving, and it's another for it to put up with losing. In order to keep his job, Dabo, an expert recruiter and former wide receivers coach, will need to revamp an offense that ranked 86th in the nation in scoring in 2010.
9.Danny Hope — Purdue
: During his first season with the Boilermakers in 2009, Hope (appropriately) instilled hope in the program, defeating both Ohio State and Michigan and improving the team's record by one game from the previous season. One year later, Hope has coached as many losing seasons as his predecessor Joe Tiller did during his 12 seasons with the program. The slight decline to 4-8 in 2010 is a cause for concern for Purdue fans, who had become accustomed to watching winning teams under Tiller. Another losing season could make for a tenuous next off-season for Hope.
10.Bob Toledo — Tulane
: In 1998, Bob Toledo and Tulane separately experienced perhaps their most memorable seasons. Toledo coached his Bruins to an undefeated record in the Pac-10 and a Rose Bowl appearance, and the Green Wave became the first non-BCS team to finish a season undefeated. The two joined forces eight years later after both had experienced falls from grace. Unfortunately, the tough luck continues as Toledo has posted a 13-35 record in four seasons. The patience he has received while attempting to right the ship will be harder to come by in the future. Although he has overseen modest one game improvements over each of the last two seasons and recently received a contract extension, a regression may draw forth a wave of change.
Is this a flag or a headstone template for the coaching graveyard that is Tulane?

3
Don't forget to vote in the fan polls!
To advertise with The Daily Hat Trick, or to submit a guest clomun, please contact the editor at
eric@thedailyhattrick.info
.
Special thanks, again, to tim Handorf of
bestcollegesonline.net
for this article.
The Daily Hat Trick is brought to you by
Sports N Stuff
! Great guy stuff at great prices! Visit
http://www.sportsnstuff.biz
!
1) Image from dev.chuckoliver.net
2) Image from bleacherreport.com
3) Image from midwestsportsfans.com
4) Image from collegeshade.com